Op onze rustdag in Shei-Pa National Park genieten we van de herfstkleuren. Zeer bijzonder in de tropen, de Taiwanezen komen er speciaal voor naar dit hooggelegen park.
Bij onze overnachting is een diner in buffetstijl inbegrepen. Wij zijn de enige niet-Aziaten tusse de honderden lokale toeristen.
De volgende dag peddelen we rustig verder de bergen in. Deze streek is beroemd op zijn appels. Als we ergens langs de weg stoppen plukt een boer er twee voor ons. Zoals alle appels hier zitten ze in een papieren hoesje om ze te beschermen tegen de felle zon. We overnachten in Lishan, waar dagjesmensen dozen vol appels naar hun auto sjouwen en we uitzicht hebben op Snow Mountain, met 3883 meter de op één na hoogste berg van Taiwan. In de vallei zien we ook de eerste theeplantages.
Dan volgt de laatste etappe bergop. De breedte van de weg wisselt steeds, afhankelijk van de beschikbare ruimte op de bergwand. De weg heeft veel onderhoud nodig. Soms wordt er zelfs een noodweg om een rampplek heen gelegd. Door een (onverlichte) tunnel bereiken we het hoogste punt. Niet veel later gaan we op zoek naar een wildkampeerplek.
De nachttemperatuur is hier in Taiwan meestal rond de 20 graden. Maar hier hoog in de bergen daalt die tot slechts 7 graden en dus trekken we zo ongeveer alles aan wat we bij ons hebben om warm te blijven.
We hebben het hoogste punt bereikt en beginnen aan een lange afdaling. In één dag dalen we even veel af als in we vier dagen ploeteren gestegen zijn. De weg is nu extreem smal en in iedere bocht staat een spiegel, de enige manier om zicht te hebben op tegemoetkomend verkeer. Het landschap is totaal ongerept, op de weg na. Rondom ons sterk geplooide, steile groene hellingen, eindigend in onzichtbare ravijnen.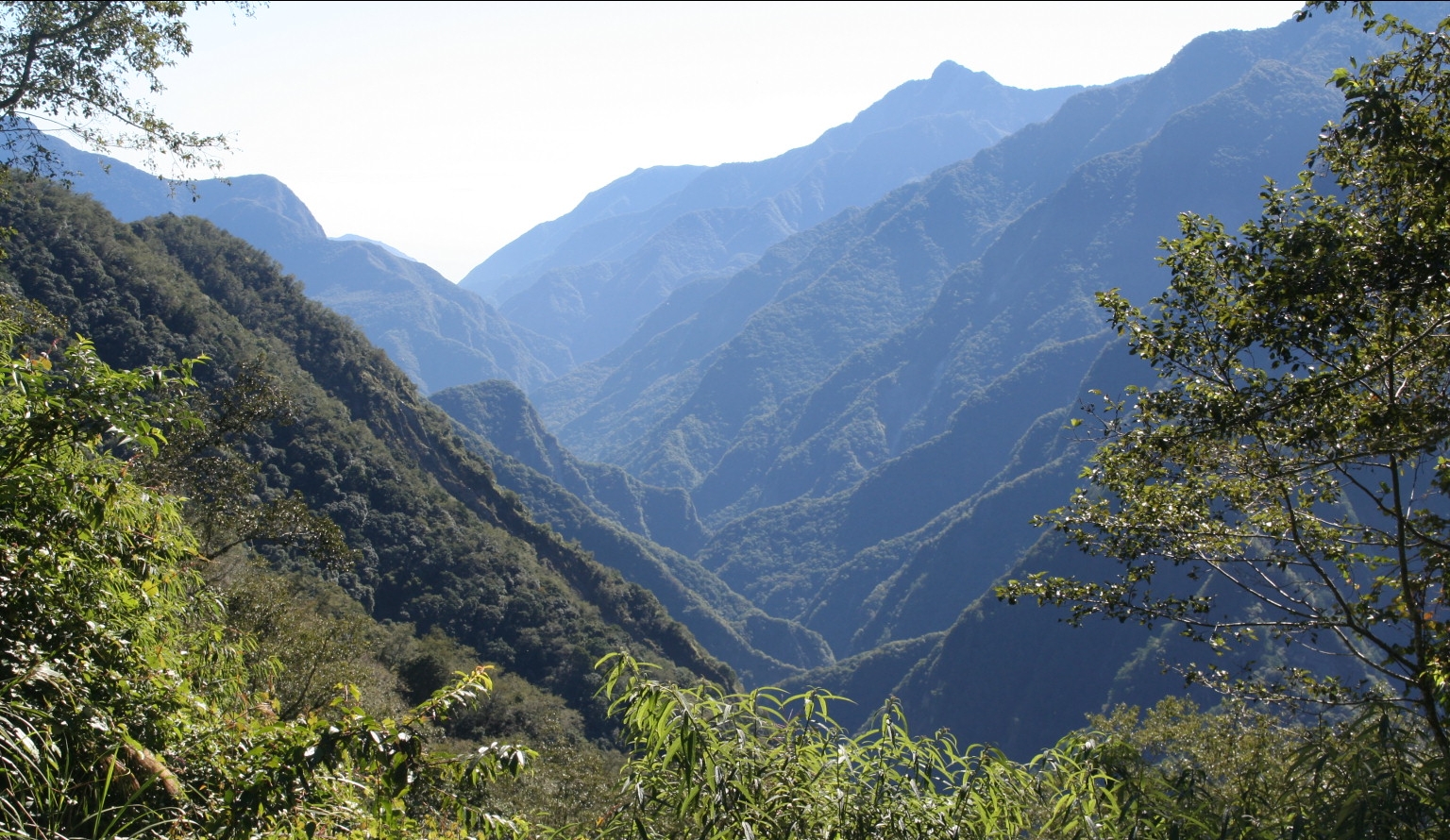 De route slingert langs de hellingen van dal naar dal. Meestal is de weg onzichtbaar verborgen tussen het groen, maar als we hem al zien is het altijd diep onder ons. Hij vertoont de hele afdaling veel littekens van rotsen die ooit zijn neergestort en van complete aardverschuivingen. We fietsen door tientallen tunnels, in alle soorten en maten.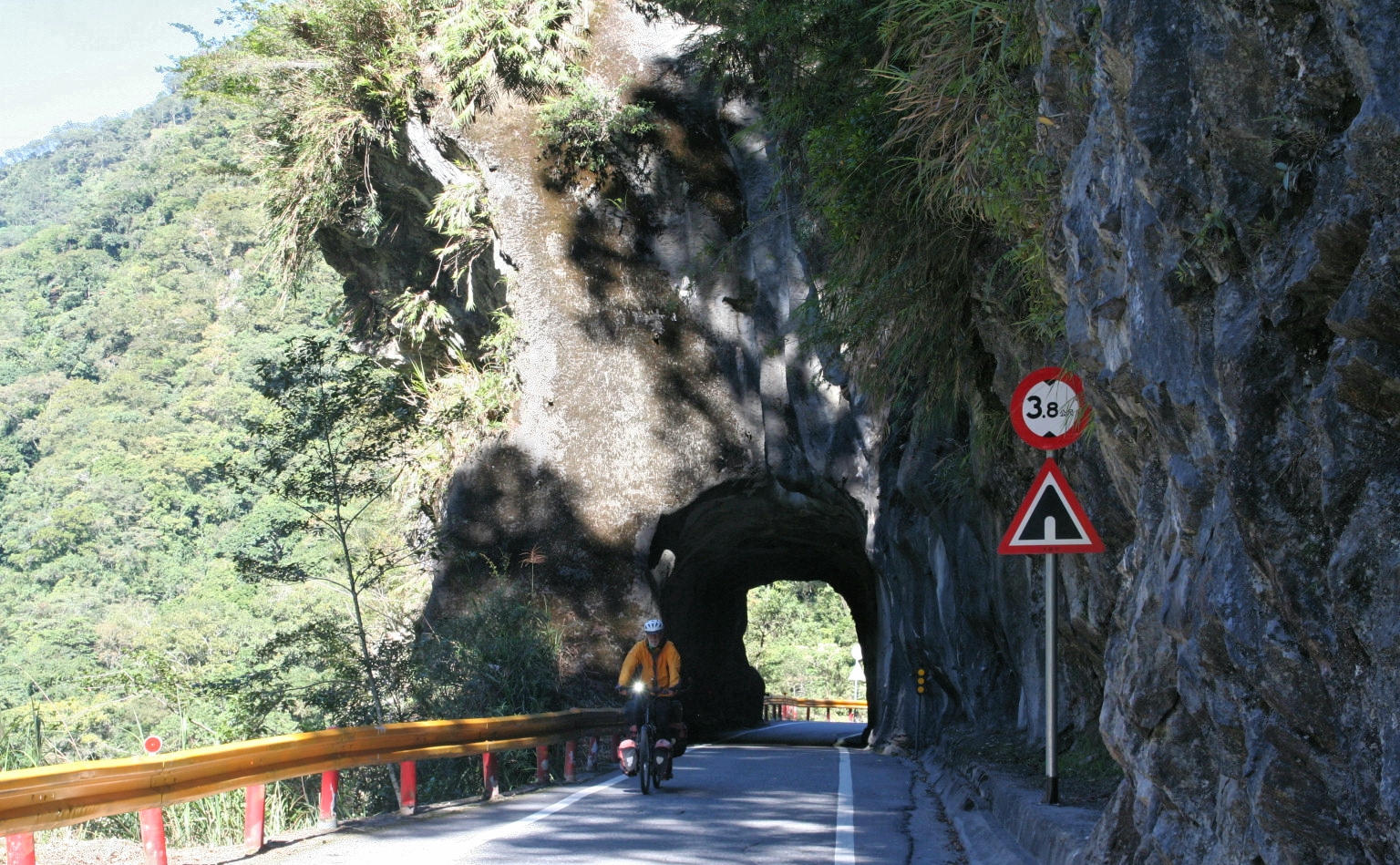 De weg is ooit aangelegd door arbeiders die zich met touwen langs de hellingen lieten zakken en met dynamiet de rotsen opbliezen. Er brak nog al eens zo'n touw, waarna de onfortuinlijke mannen te pletter vielen in het ravijn.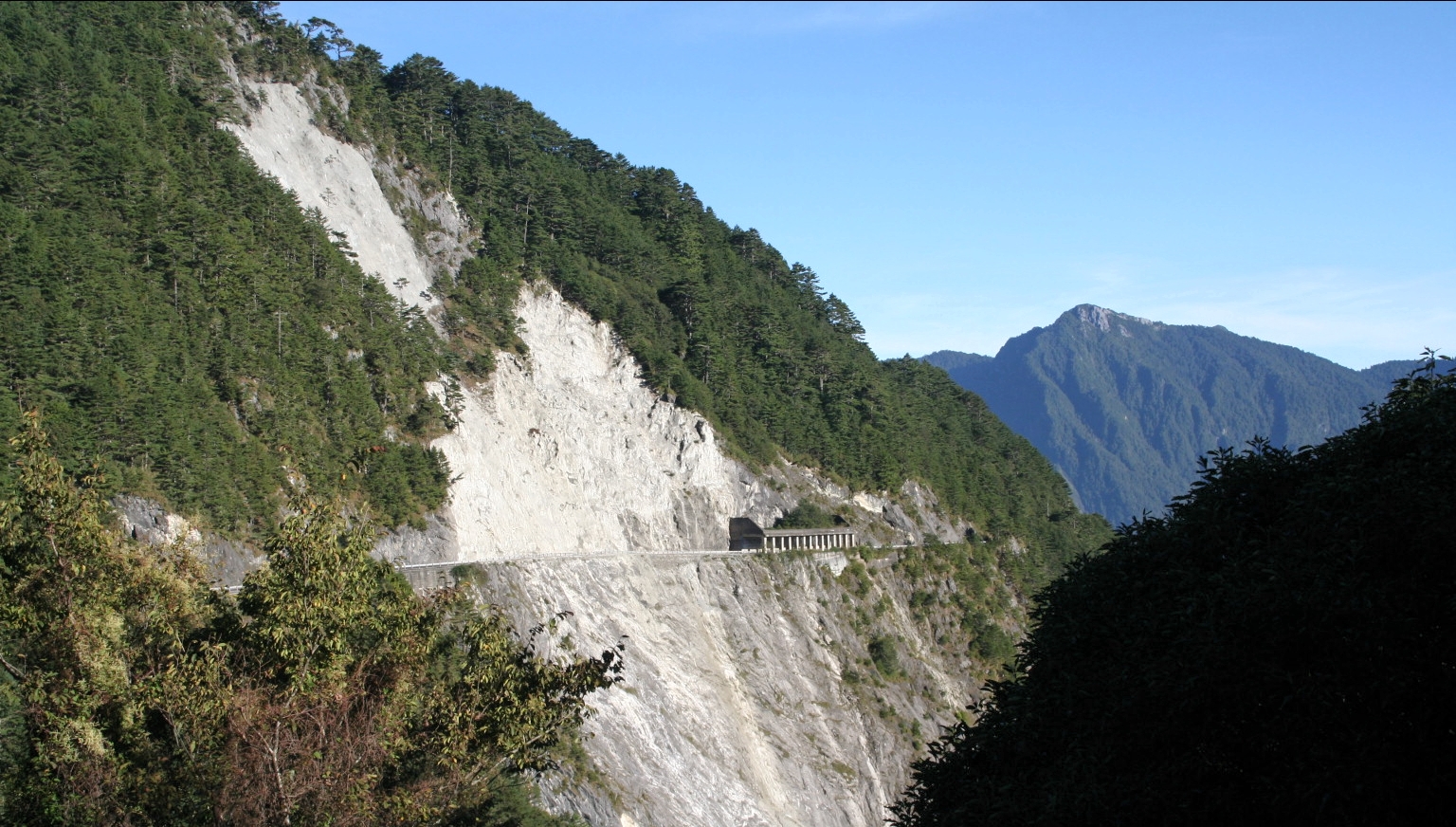 De afdaling eindigt in de Taroko Gorge, één van de topattracties van Taiwan. Wij hebben onze mening al snel gevormd: de weg ernaartoe is veel mooier dan die hele gorge. In file rijden we met tourbussen vol toeristen door eindeloos veel heel brede tunnels, met af en toe daartussen een mooi uitzicht of een romantisch gelegen tempeltje.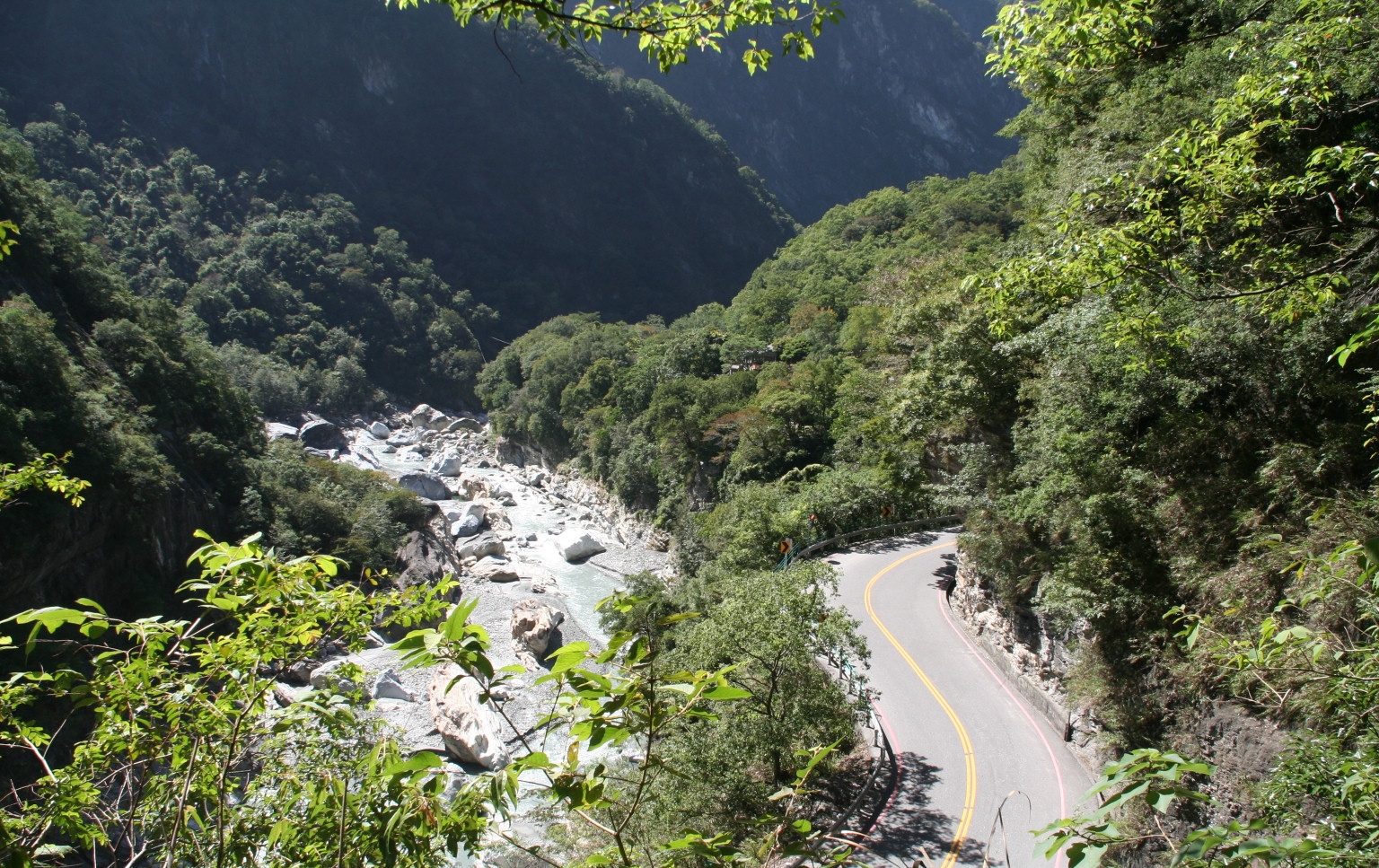 Dan draaien we een laatste bocht om en zien de zee: we zijn 2500 meter afgedaald. Na de smalle bergwegen hebben we opeens weer een eigen fietsstrookje. Onze eerste lekke band repareren we op een uitgestrekte Chinese begraafplaats.
Iemand komt gedienstig met een bak water aanlopen en iemand op een scooter stopt en vraagt of we hulp nodig hebben. Aardige mensen, die Taiwanezen. Ons fietspad langs zee eindigt plotseling met een trap terug naar de weg. We draaien een vallei in, waar rijst pal naast mais groeit.
Wat stel jij je voor bij een tyfoon? Platliggende palmbomen en slagregens? "Onze" tyfoon Yutu trekt over de Filipijnen en de Chinese Zee. We zitten niet bepaald in het oog, dus hier geen windkracht 12 (117 km/u) zoals de definitie van een tyfoon luidt. Maar Yutu bezorgt ons wel overlast.
We kunnen nog wel fietsen, want we hebben de storm in de rug. Het regent inmiddels meer dan 48 uur, regen die de weg soms in een rivier verandert. Het einde is nog niet in zicht, al neemt de kracht wel af.
We passeren de kreeftskeerkring met onze complete regenuitrusting aan. Iets verderop houden we een rustdag om op te drogen en uit te rusten.
Cobra, aardbeving en tyfoon…..we hebben al heel wat Taiwanese fenomenen meegemaakt en we zijn nog niet eens op de helft van de reis. Wat nogt ontbreekt? Killer bees! Daarover misschien een volgende keer meer.