In October and November 2009 we cycled in Oman. The trip took four weeks to complete. The total distance cycled was around 1200 kms.
We started and ended our trip in Muscat. First following the coast to Sur, then travelling south and then west again to the Wahiba Sands area and Nizwa. We climbed the road up Oman´s highest mountain, Jebel Shams, and then crossed to Wadi Bani Awf. Via Rustaq and Nakhl we finally reached Muscat again where our trip finished.
Cycling in an Islamic country: dress code
Oman is a liberal Islamic country. It means that a woman does not have to weir a scarf and you can see non-muslims and tourists in shorts and with uncovered shoulders.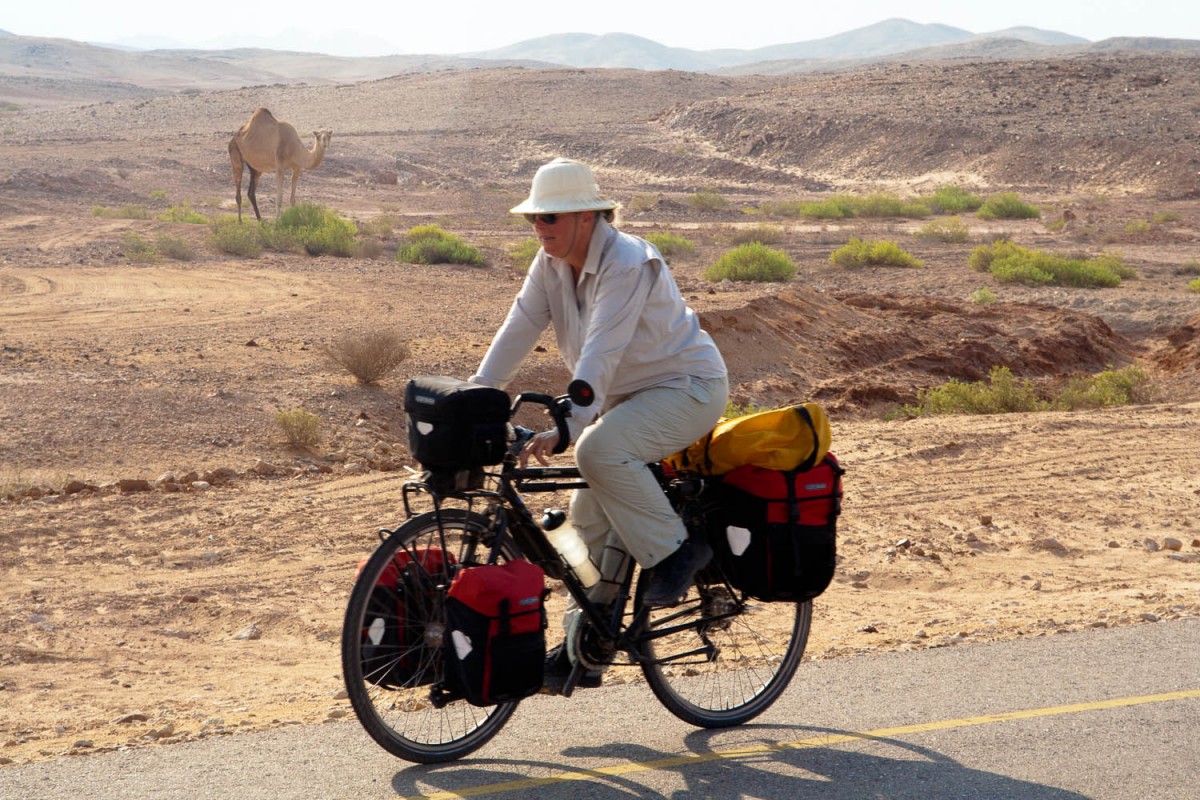 We decided to respect the local dress code and cycled in long trousers and wearing long sleeves. Covering your knees and, for women, the elbows would be the minimum requirements to avoid being stared at outside larger towns.
Years later we  visited Iran where the dress code is much less relaxed
Maps
Back home we bought the Oman map of Reise-Know-How Verlag , second edition, 2007. ISBN 978-3-8317-7178-3. The map scale is 1:850.000 and it contains the names of major towns in Arabic. For international distributors see http://www.reise-know-how.de In Oman we did not see this map for sale and could not find a better map.
Not really a map, but very useful is the Oman Off-Road Explorer. See Books for more information.
We have published our entire route as a Google Map.
Books
A very useful book is "Oman Off-Road Explorer", containing extensive descriptions of 26 routes, including detailed maps. We used the revised first edition of 2008, but the second edition will be published in 2010. Although written for 4WD, we found it very useful for cyclists. Unfortunately it is very heavy, so make copies of the routes you intend to cycle or cut out the pages you need.
We also used the Oman guide of Bradt for general travel information, first printed in 2006. ISBN-10 1841621 68 4 or ISBN-13 978 841621 68 5. It's the most extensive guide available.
Oman on the www
A selection of qf websites with tour reports and other information on cycling in Oman.
See our video page for some moving stuff
Roads and traffic
All main roads were in a good condition. As soon as you leave Muscat and its close surroundings, traffic is rather light. Even better, many paved roads have a shoulder (small strip on both sides separated by a yellow line) that can be used as a bicycle-lane.
The few gravel roads we used were in good shape, apart from the descent into Wadi Bani Auf. A mountain bike is not needed on this trip; wider tyres are useful. Traffic is on the right hand side of the road.
Except from crossing the rugged mountains of Jebel el Akhdar the trip is almost completely flat.
Your bicycle preparation spare parts
Be sure your bicycle is in good condition when leaving home. Cycling is not popular in Oman. To get the essential part you may have to go all the way to Muscat, where the only specialised bicycle shop in Oman is run by a Dutchman.
Bring any essential spare parts. See our interactive checklist for some advice.
Food and drinks
Water
It's most important to drink lots of water to prevent dehydration. Mineral water, bottled at one of Oman's springs,  is cheap and for sale at every shop, restaurant and most petrol stations. Do carry enough water, because sometimes villages are far apart.
Another good source of water is any mosque. The government provides drinking water to every mosque and sometimes also to (shady) places along the road where drivers can perform their prayers. This water is free and at the mosques it's often icy cold.
Food
It seems that new supermarkets are opening on a daily basis. They sell a wide range of products: anything from crunchy peanut butter to whole wheat bread and foreign cheese.
On the internet we read about troubles buying bread. That's definitely history by now. In all major towns you'll find one or even several bakeries selling a wide range of bread products.
Supermarkets sell everything you need to cook your own meal.
Most restaurants are run by Indians. Apart from western dishes the menu also contains lots of Indian and Asian dishes as well. Being vegetarians en lovers of the Indian cuisine we enjoyed many great (and cheap) meals.
Alcohol
Alcohol is not for sale in shops, only in licensed restaurants. Despite these facts we enjoyed an ice cold beer every few days.
Climate
Oman is an arid, desertlike country. The coastal region is hot and humid in summer, while the interior is very hot and dry.
It's suicide to even think about cycling in Oman in summer; temperatures can reach around 48˚C! We arrived late October and still had to pause several hours in the shade at midday, because it was too hot to cycle.  At midday the temperature was approx. 35 ˚C.
In the winter months both areas are pleasantly warm and dry. Nights can be cold and even freezing though, so take warm clothes when you are camping. More detailed information about the weather in Oman.
Where to stay
Camping
New hotels and resorts seem to open every day. Still they are not at cycling distance from each other. So when you want to cycle the whole distance you'll need to bring camping gear.
Official campsites are non-existent in Oman, but you can put up your camp anywhere. There are no restrictions, just respect people's privacy and properties. At the end of the day we just cycled off the tarmac and always found ourselves a nice spot for our tent. It's safe to camp anywhere in Oman, except in or near a wadi, because of the danger of flash floods.
Hotels and resorts
A typical double room with air-co including breakfast costs around RO 25 to 30. In Muscat and larger cities like Sur and Nizwa prices are about RO 50 to 60 and at beach resorts accommodation is even more expensive.
Other ways of getting around
There is no railway in Oman at the moment, although there are plans in the future. Domestic flights connect to Salalah and Musandam. Six more airports are under construction, so in the near future you may be able to cycle one way to places like Ras al Jinz and return by air.
Buses run the main roads on a regular basis and may take bicycles. But it's probably easier to hitchhike.