If you are looking for another trip through a country with wide open spaces and stunning views just like Mongolia, our trip through central China might be interesting as well….
In August and September we travelled by bicycle in Mongolia. The trip took four weeks to complete. The total distance cycled was around 900 kms.
We started and ended our trip in Ulan Bataar. We first hired a "taxi" to take us out of town. We started cycling near Amarbayasgalant then travelled west to Erdenet and Bulgan. Then south to Tsesterleg and east again to Karkorin and finally Arkayveer. There we chartered a minibus to take us back to the capital.
Cycling in Mongolia is a cyclist's dream for experienced, totally self-sufficient cyclists. If you like this tour report, but don't feel confident to undertake this trip on your own, there is an alternative. On our way from Bulgan to Arvayheer we accidentally met the tour group of Tseren Tours. They invited us into their camp one night and we cycled roughly the same route for several days. This tour was very well organised and the staff very experienced.
Maps
Back home we bought the Gizi Map of Mongolia, ISBN 978-3-963-86808-8-4. The map scale is 1 : 2.000.000. It shows shaded relief and names are written both in English and Mongol.
In Ulaan Baatar we bought an additional road atlas at the Map Shop and digital information (way points) at Ayanchin Outfitters.
We also got some copies of maps on a smaller scale (1:500.000) from Andreas von Hessberg who cycled in Mongolia in 1996.
Despite all this information we got lost several times. The sources we used contained conflicting information: villages on one map didn't exist on the other one, main roads were located at different places. But all this information somehow kept us going into the right direction.
We have published our entire route as a Google Map. See our Tour Report page or download the kml file (for use in Google Earth)
Books
We used the Mongolia guide of Lonely Planet for general travel information, first published in 1993. The most recent was the 5th edition, published may 2008, ISBN  978-1-74104-578-9. Its the most extensive guide available.
Also very useful is the Lonely Planet Mongolian Phrasebook, ISBN 978-1-74059-186-7, as it shows words and sentences in Mongolian Cyrillic script. We also carried the picture dictionary Point it.
Mongolia on the www
A selection of websites with tour reports and other information on cycling in Mongolia:
Roads and traffic
There are only a few main roads, connecting the larger cities. Even these main roads were sometimes in bad or even appalling condition. Main roads are not always hard surfaced. What looks like a good road on a map is often just a track in the dirt or mud. Only larger rivers are bridged.
There are hardly any signposts in the country. Asking for directions is problematic. Not only because most people you'll meet along the tracks only speak Mongolian, but also because all the tracks lead more or less to the same destination: nomads think in directions, not in roads. And finally, most of the time there is no one around to ask. As soon as you leave UB, there is hardly any traffic.
Don't count on covering large distances. As soon as we left the main roads we covered no more than 40 to 50 kilometers a day.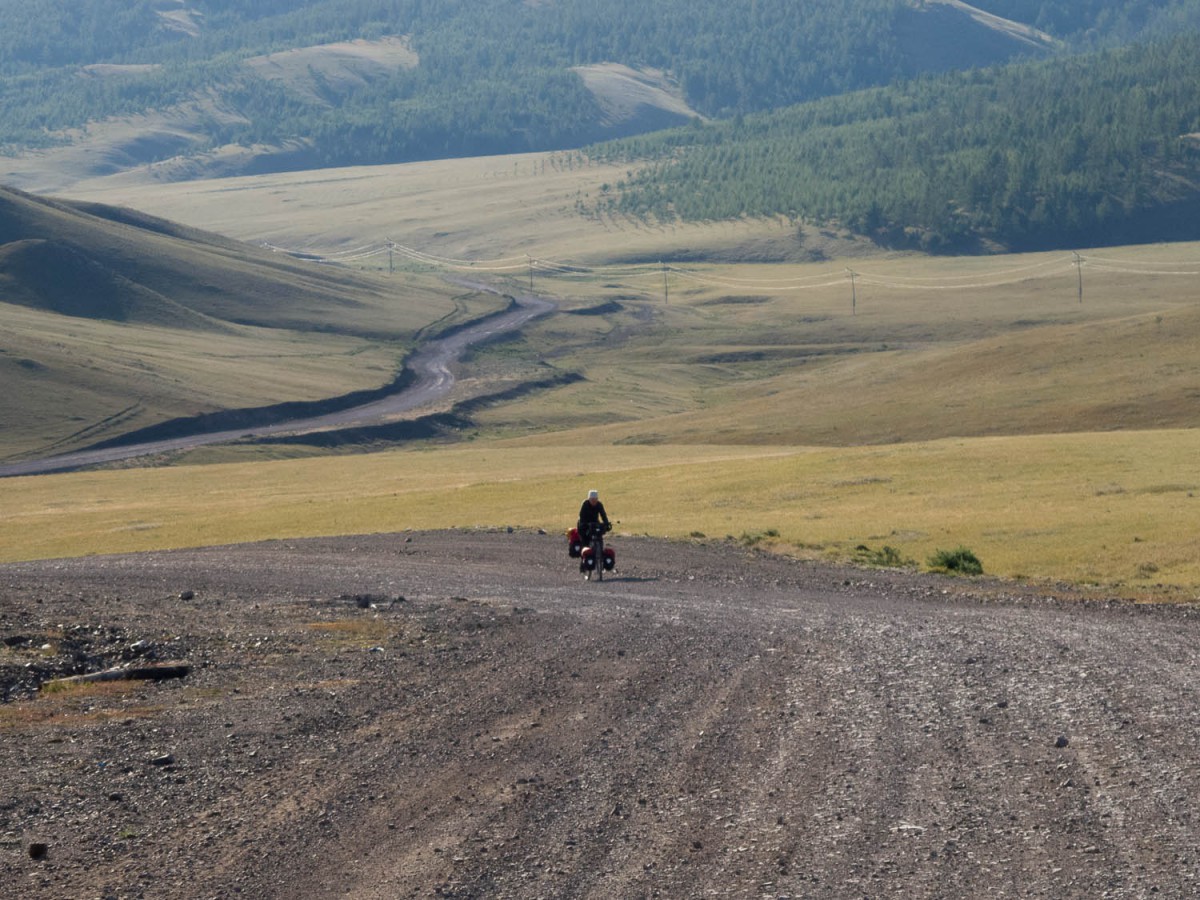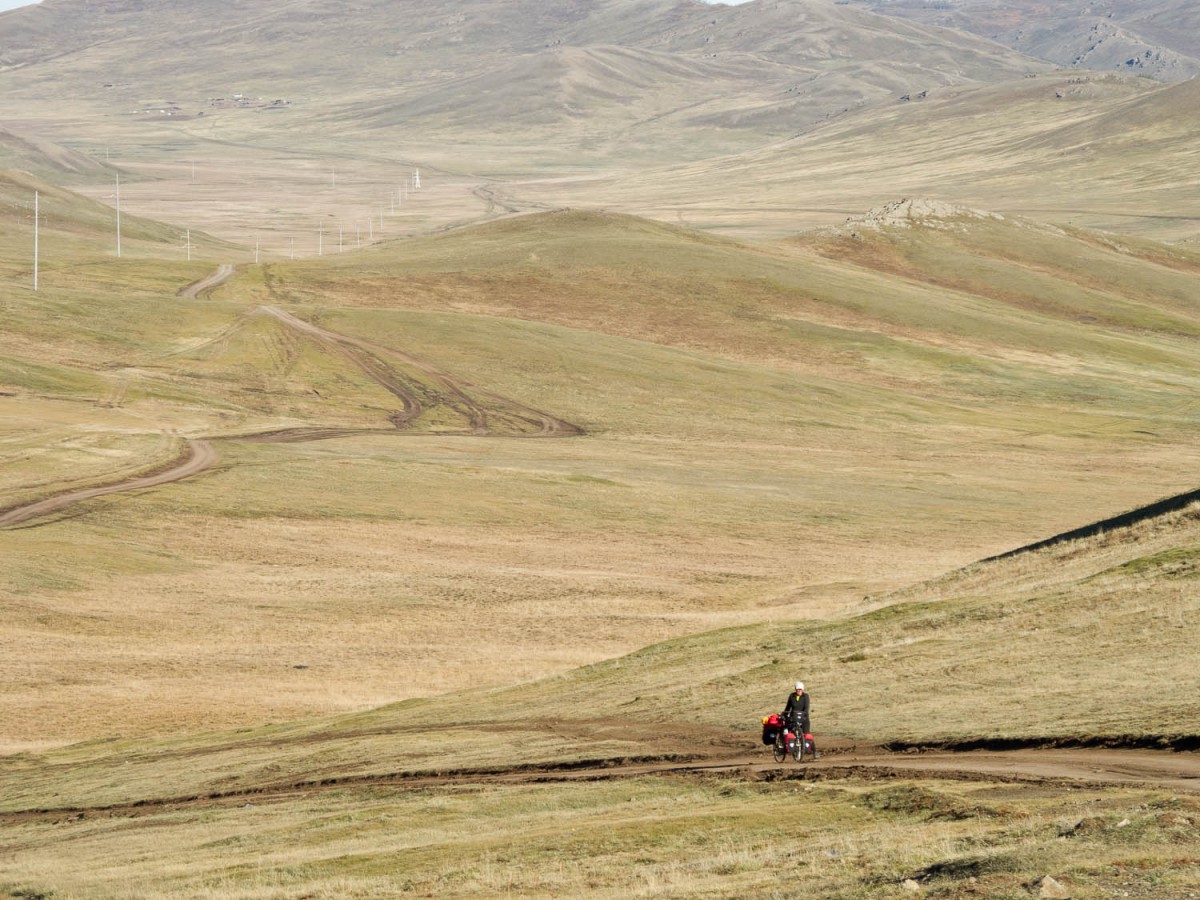 Your bicycle preparation spare parts
Be sure your bicycle is in good condition when leaving home. You must be completely self-sufficient and be able to do all repairs yourself when you are out there. There is only one specialised bikeshop in the country. It's located in the suburbs of UB. Bring any essential spare parts.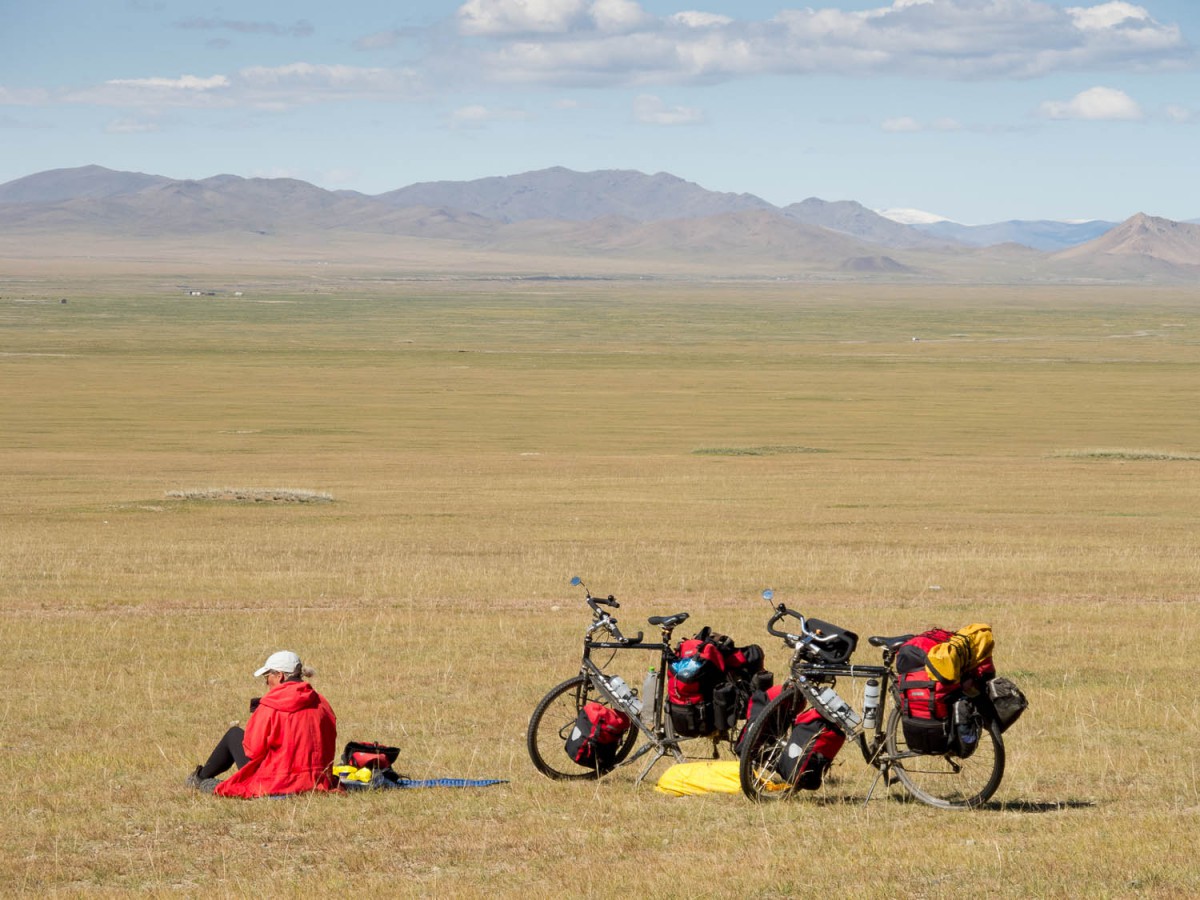 Water
You will need a water filter to filter the water from river or streams, or boil all your drinking water, taking into account the elevation when calculating the time it has to boil. Bottled water is incidentally available, but only in very small 500 ml bottles. We filled our bottles whenever we came to a river or stream, as it was often unclear when we would meet another water source.
Food
Outside the main cities like Erdenet, Bulgan, Tsetserleg, Harhorin and Arvayheer, there is not much available, apart from bread and a can of vegetables.
We brought some dried vegetables and egg powder as emergency stock from home. After days of spaghetti and canned peas an omelette makes a real gourmet meal!
Ordering a meal in a restaurant can be a real adventure. Menus are almost always written in Mongolian only. We used both a dictionary and a picture dictionary, and were still often surprised by the dishes that appeared from the kitchen. Meals mainly consist of meat. Anja, being vegetarian,  was very happy to discover the vegan Loving Hut. We found these restaurants in Erdenet, Bulgan and UB.
Climate
We cycled in august and September: after the rains and before it would get too cold. We heard about cyclists having trouble with severe winds or waking in knee deep snow. We had a few days of very cold, snowy weather, but the rest of the trip the weather was very pleasant. Most of the days it was sunny, and often warm enough to cycle in short sleeves and shorts.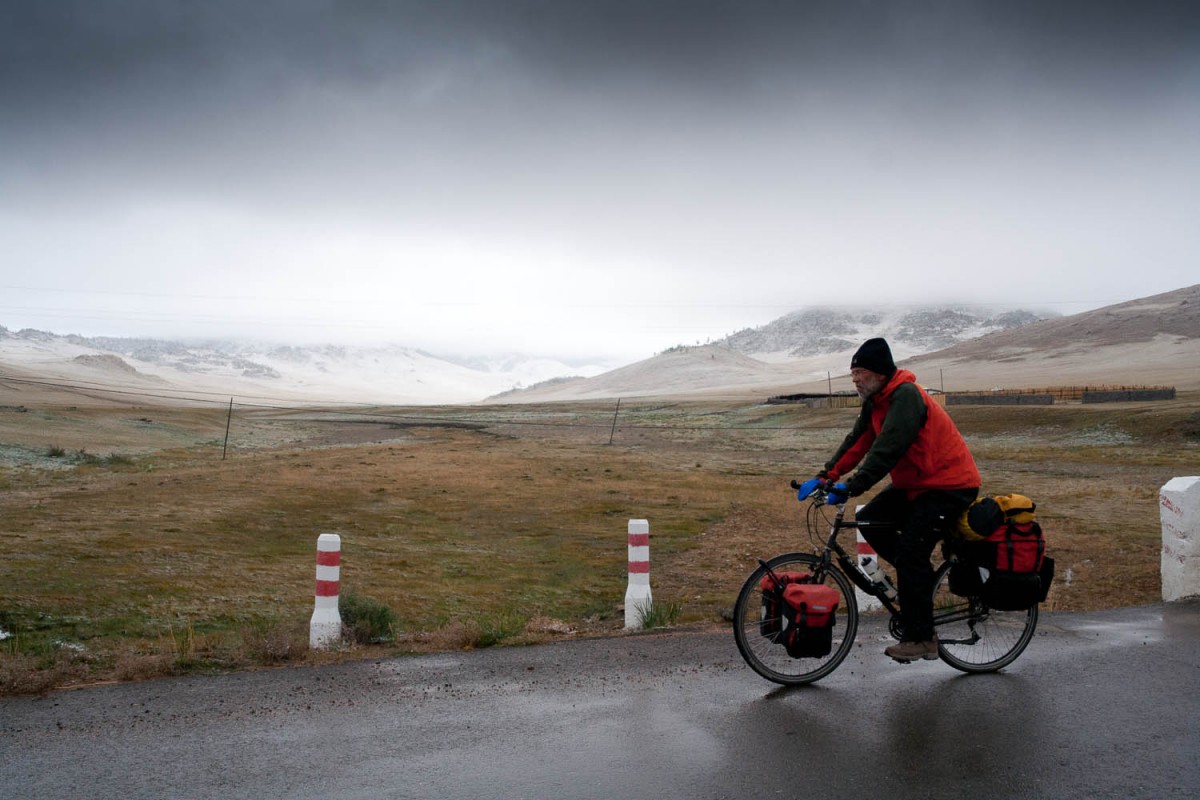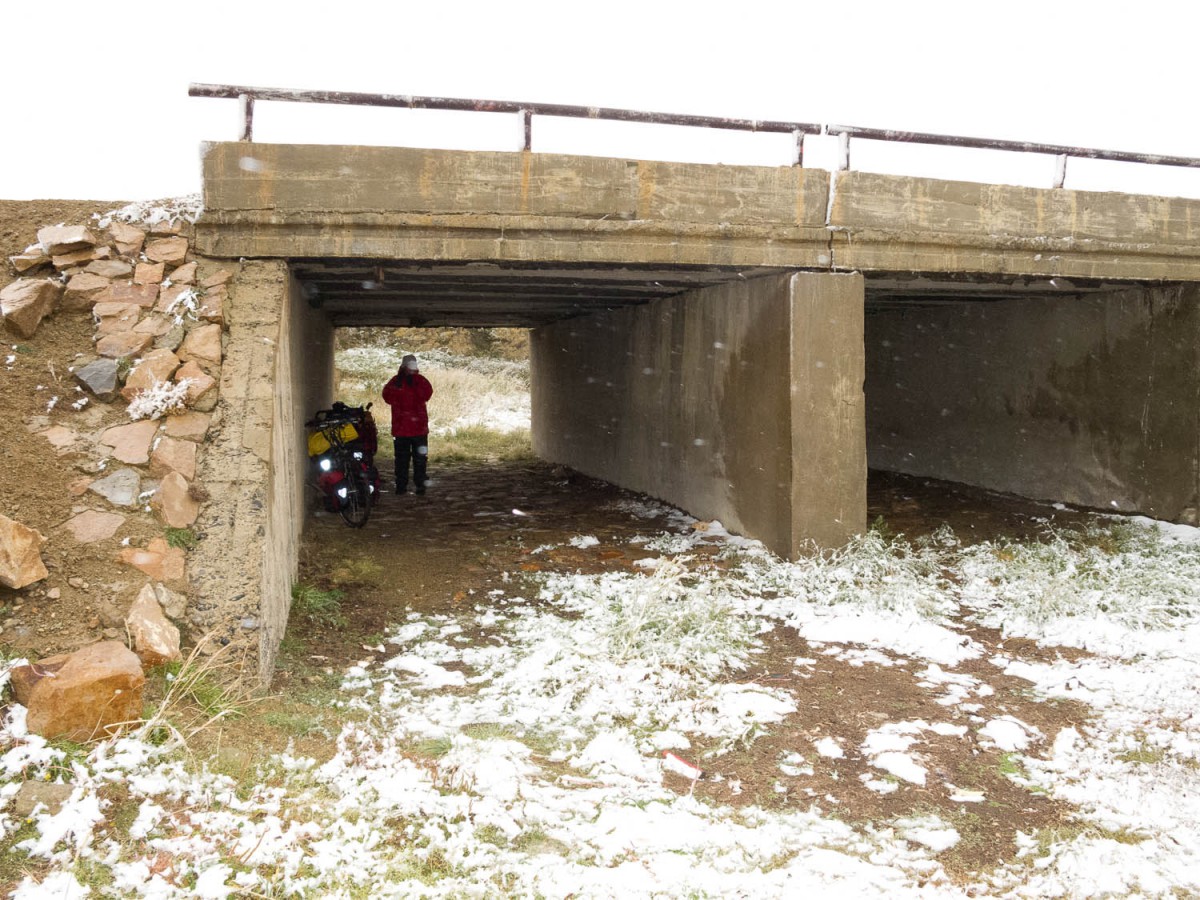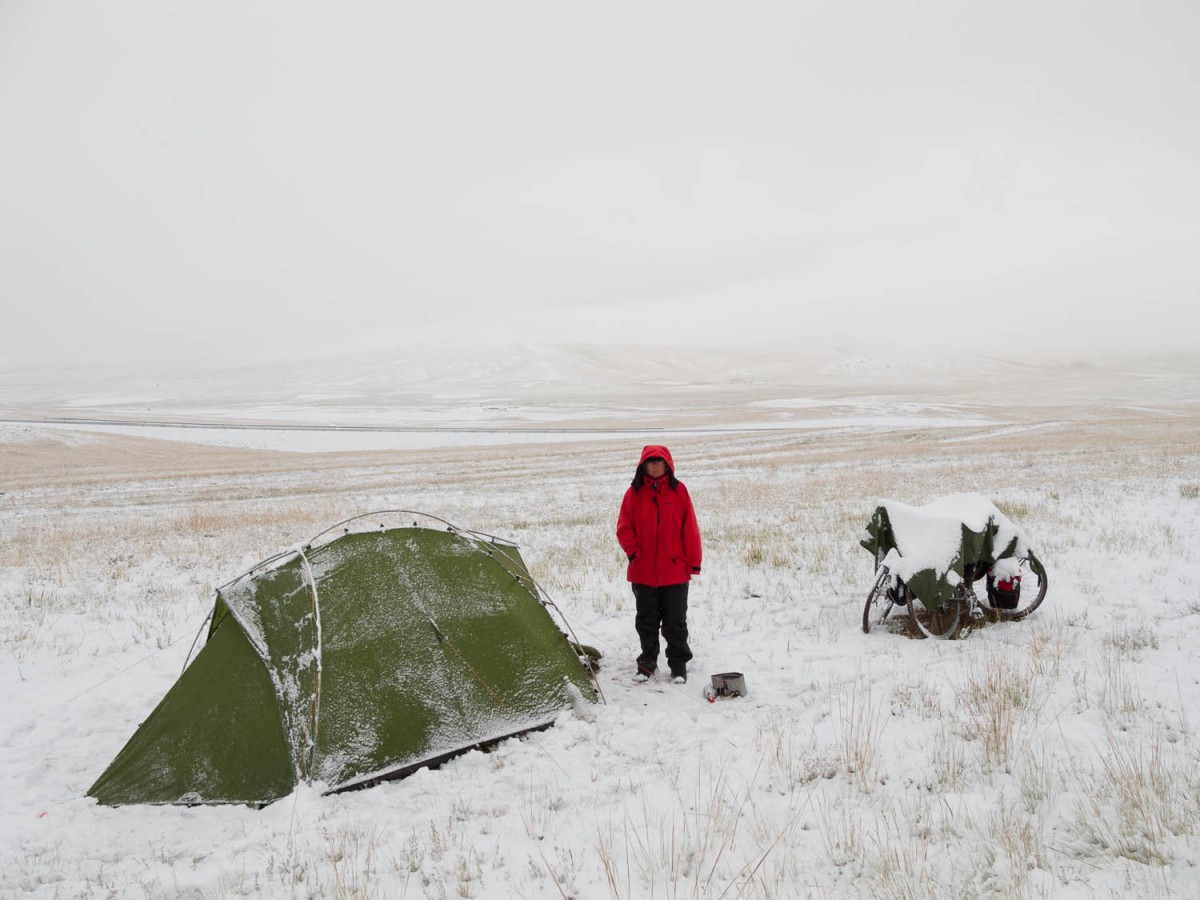 Where to stay
Camping
Mongolia is one large campsite. You can put up your camp anywhere, as the land is unowned and unfenced. There are no restrictions, just respect people's privacy and don't camp next to a ger, except when you are invited. At the end of the day we just cycled off the track and always found ourselves a nice spot for our tent, with excellent views.
Hotels
Outside UB hotel options are generally poor in quality and services. You will only find hotels in larger cities. The further away from UB, the less the quality of the rooms, if available at all.
Gers
Gers are the homes of the nomads. They are made of felt and normally about 7 or 8 meters in diameter, decorated with a bright colourful door and interior. When it's cold the stovepipe is poked out of the narrow cone top and within minutes the wood stove heats the ger to a very comfortable temperature.
Fortunately there are tourist ger camps all around the country. We enjoyed staying there very much. Gers are large enough to park your bicycle inside for the night.
Other ways of getting around
The railway network is not extensive. Apart from the Trans-Mongolian Railway there is one line to Erdenet. It seems to be possible to take your bicycle on the night train to Erdenet.
Domestic flights connect to several aimag (provincial) capitals. If you wish to fly one way and return by road, it's best to fly out of UB and return by bicycle, as it's more difficult to obtain a ticket in the countryside. We don't have any experience with domestic flight, but read on the internet a report of a cyclist who managed to take his bicycle on the flight.
Buses run the main roads on a regular basis and may take bicycles.
We think the countryside of Mongolia is far more interesting to cycle than the main roads in and out of UB. That's why we rented a minivan to leave UB and to return from Arvayheer. The advantage is that you can stop whenever and wherever you wish and, more important, can oversee the storage of the bikes (inside the bus). This reduces the risk of damage significantly.
The first leg we booked through a travel agency weeks before arriving. This was more expensive, but saved us a lot of time in UB. In Arvayheer it took us a day to get in contact with a driver who was willing to take us to UB in 2 days, with a stopover at the red dunes of Mongols Els. We found this return trip very comfortable.