In October 2015 we travelled 4 weeks by bicycle in Central Iran. We flew to Teheran (a Turkish Airlines flight from Amsterdam via Istanbul) and used a taxi to travel to our starting point Kashan. From Kashan we biked to Abyaneh, Isfahan, Naïn, Yazd and finally to Shiraz. From Shiraz we flew home. The total distance travelled was almost 1100 kilometres. The detailed route can be found on the Iran route page.
Maps
We used two printed maps: the Nelles 1:1.750.000 map and the Iran edition of the Reise Know How map scale 1:1.500.000. Overall the Nelles map provided more reliable information.  Iran is expanding it's road network very fast.
We also used the Open Street Map of Iran on our Garmin Dakota 20 GPS and occasionally the OSmand, and Maps Me off-line map apps on an Android smartphone. There are not that many roads so getting lost is not a big issue in Iran.
To prepare our trip we used Google Maps and Google Earth.
Books
We used the Lonely Planet Iran guide for general travel information and accommodation options.
Internet and email
Iran has one of the most heavily censored internets in the world. Twitter, blogs, Facebook etc etc are not available. And speeds are rather slow. We installed a VPN service on our Android smart pone. The service of ExpressVPN (not free) worked perfectly to get all the data we wanted.  Most Iranians will use such a service, by the way. Almost all the hotels we stayed offered free WIFI in the rooms or in the hotel lobby.
Language
There is always (mostly at least) somebody around who speaks some English. Just in case we had downloaded the offline Farsi dictionary of Google Translate to our phone but we rarely used it. We also carried a Lonely Planet  phrasebook in Farsi.
Roads and traffic
In towns the traffic is very busy and chaotic. There are traffic rules but  most drivers ignore them all. Although Iran is ranking high in the list of countries with most traffic fatalities we did not feel unsafe on the road. Almost all the major roads we used had a (wide enough) shoulder to get away from the endless stream of trucks.
The roads itself are in good condition and signposting is often both in Farsi and Western characters.
Only between Murchenkort and the outskirts of Shiraz we hitchhiked to avoid cycling along a shoulderless and very very busy road.  There were no substantial mountain passes on the route we followed.
Water and other drinks
Although it seems that tap water is safe to drink in most parts of Iran we mostly bought 1.5 litre bottles of mineral water. Bottled water is available everywhere.
There is a wide variety of soft drinks but no beer or other alcohol for sale. The soda called 'Islamic beer' comes mostly in two tastes: lemon or peach.  More expensive restaurants in cities may have western brands of alcohol free beer for sale.
Food
A typical restaurant dish consists of rice, kebab and a salad. Otherwise you"ll have a choice for the usual fast food items like hamburgers and pizzas. There are limited options for vegetarians: the sandwich falafel being one of the better alternatives.
Toast style bread is widely available, just like items as peanut butter and cheese. Bakeries selling traditional flat bread are around every corner.
Most hotels and guesthouses will serve a buffet style breakfast.
Climate and weather
October was a good month to travel. The days never were very hot (mostly just over 30 degrees Celsius) and the nights were pleasantly cool. Only at our final destination Shiraz we had one cool day with substantial rain.
Money
There were no ATM's in Iran (to withdraw money using a credit card of foreign bank card). Bring all the money you need in cash! This may change the moment the sanctions by the EU and the USA are lifted.
Where to stay
Camping
There are (almost) no campsites in Iran. You can put up your camp anywhere, just respect the people's privacy. At the end of the day we just cycled off the road and always found a nice spot for our tent.  The Persepolis Tourist Hotel was the only place we saw that offered camping. All our free camping spots are marked on our route map.
Hotels and more
The next hotel accommodation is often more than a day cycling away, so camping gear is advisable. You will only find hotels in the cities and the larger towns. On the large stretch from Yazd tot Shiraz there is no accommodation. The hotels in Abarkuh and Surmaq, mentioned in guidebooks, were both closed for many years when we passed. In Surmaq we stayed at the home of mr. Sassan Azidi.
Culture and dress code
Women are obliged to wear a scarf and keep their arms and legs completely covered. You will get used to it soon, although you'll keep struggling with your scarf just like the Iranian women do. Paul decided to respect the local dress code and cycled in long trousers and wearing long sleeves, although men seem to get away with wearing shorts and a t shirt while cycling.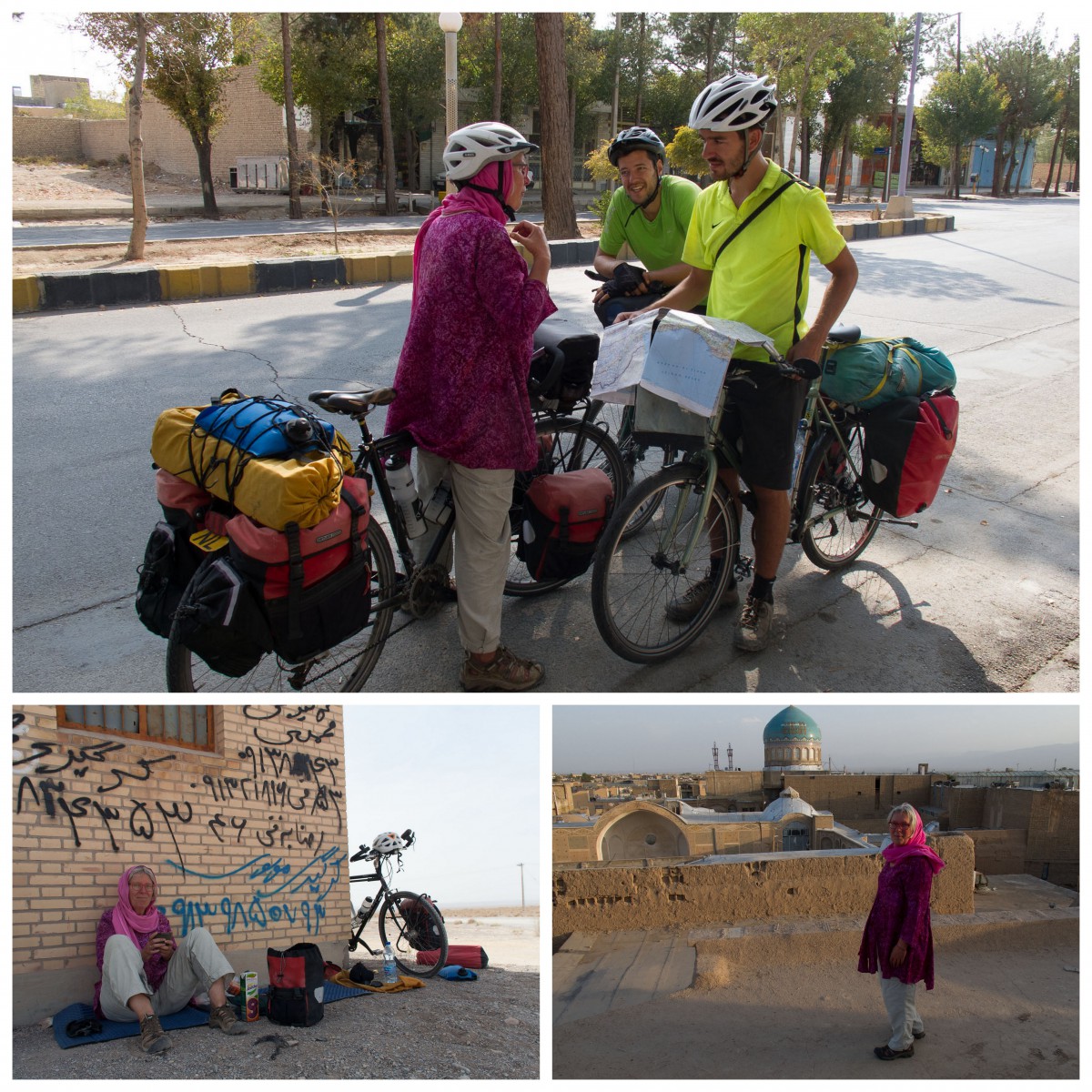 Anja: head, arms and legs fully covered
Iranians are the most friendly people we ever met. Literally every day cars stopped along the road just to give us a present: chocolate, dates, sofs drinks, candy bars, the ever present pomegranates, tea, etc. etc. And more often than not we got a note with a telephone number or address and were invited to stay with them when we visited their home town.
Questions?
If you still have some questions left do not hesitate to send us an e-mail.