All the information on this page is based on our personal experiences while cycling through Lesotho in September 2002. Our visit to Lesotho was part of a longer bike trip through South Africa.
We flew to Durban, cycled along the south coast, turned west and entered Lesotho through the Sani Pass. We traveled through mountainous Eastern Lesotho to Thaba Tseka, Katse and further to Leribe and Butha Buthe where we left the country.
This page contains specific background information on cycling in Lesotho. A detailed tour report on our entire trip and  background info on cycling in South Africa is also available.
"Is it safe to cycle in Lesotho?"
Some safety precautions may apply to surrounding South Africa but Lesotho is a different country. As Lesotho has never suffered from apartheid the Basotho people are open and will approach foreigners without hesitation.
"Give me some sweets.."
The only 'problem' may be the dozens (at some times it seem to be thousands) of schoolchildren along the road who all demand sweets or sometimes money. Telling them you don't have any will most times satisfy them (say "Hadio" in Sesotho). Throwing stones doesn't seem to be a problem although we have heard from cyclist who had to face this behaviour.
Maps; getting around
It's impossible to get lost in the Lesotho highlands. There are only a few roads. Still it's useful to have a good map.
The best map available is the official government of Lesotho map; scale 1 : 250.000. This excellent and detailed map shows all the roads, tracks and villages. Most important it gives detailed information about elevation. This map is available from Sani Lodge (Rand 80) and probably in Maseru.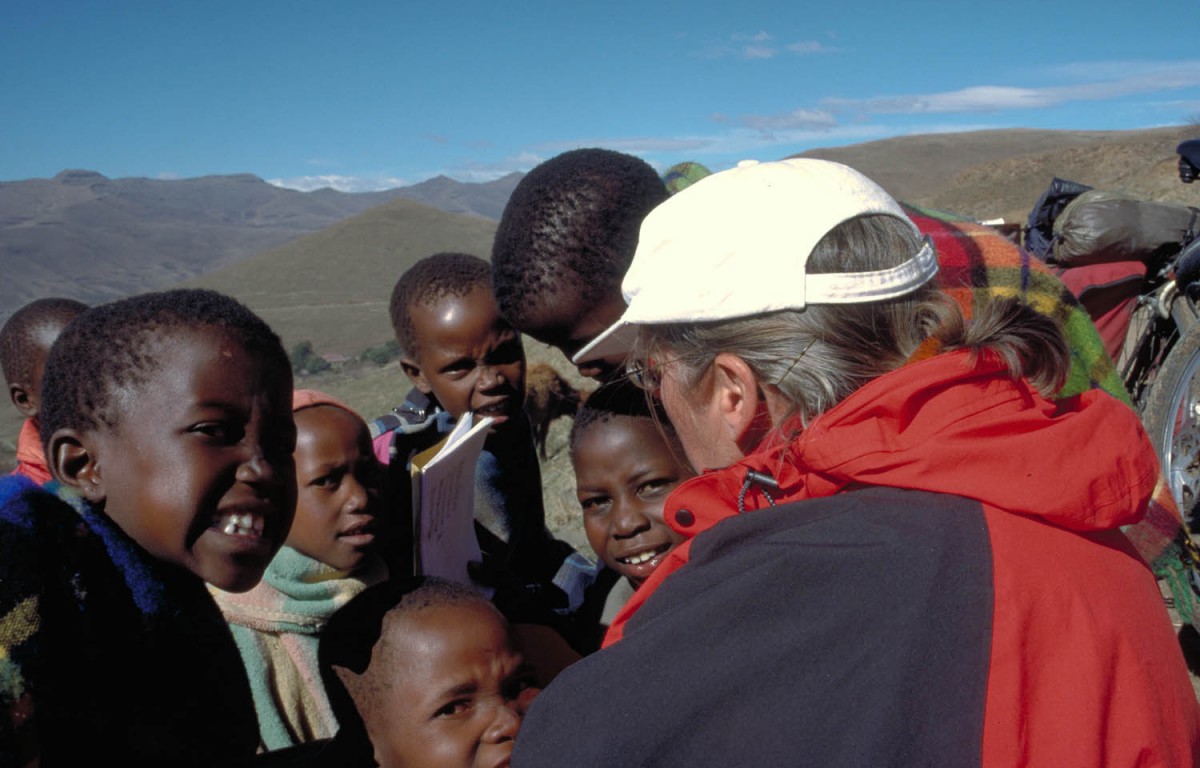 taking a break
In the eastern part of the country signposting is almost non existent; In the western lowlands are more signs. All distances are measured in kilometres. Cycling is at the left side of the road.
Books
We used the well known Lonely Planet travel guide. Russell Suchet, the owner of the Sani Lodge, has written an informative booklet titled "A backpackers guide to Lesotho" that contains some useful info for cyclists. This booklet is for sale at the Sani Lodge.
Lesotho on the WWW
AllAfrica.com/lesotho
The Lesotho section of a website with the latest news about the kingdom in the sky.
Roads and Traffic
See our South Africa – Lesotho tour report for details about road conditions.
Highlands
Roads are unpaved and generally speaking rough. Wide tyres with good grip are recommended. A mountain bike is a good idea but not essential. In this part of the country there are no flat roads. You either go up (steep) or down (steep). We often had to walk many kms to reach the next top. 50 km is probably as far as you can get in a day.
Traffic is these areas is light. You might see only a dozen cars per day.
Lowlands
Many of the lowlands road are paved and in reasonable or good condition. Near larger towns like Leribe and Butha Buthe traffic (mostly mini busses) can be busy.
Your bicycle – preparation – spare parts
No bike shops, no spare parts: nothing available to repair a broken touring bike. Bring everything you may need for essential repairs. See this checklist for some advice.
Food and drinks
Every village will have a small shop of 'cafe' selling basic foodstuff. We brought some supplies from South Africa. Tap water is safe to drink. High up in the mountains you can drink the water from streams.
Climate
We visited South Africa and Lesotho in September (2002). This is spring on the southern hemisphere. Weather in the highlands was cool. We had snow, ice and strong winds at the highest altitudes. During a unusual cold front moving north from the Antarctic we had snow and ice in the Lesotho Mountains. We stayed an extra day at Sani Top Chalet because the wind made it impossible to continue into Lesotho. The lowland (altitude only  1500 m) is warmer.
Where to stay
We stayed at guesthouses and hotels at Sani Pass, Rafolatsane, Thaba Tseka and Leribe. We camped a night at the village of Taung after asking permission from the local village chief.
Farmer Training Centres in some towns offer cheap accommodation. Missions are also worth a try; they often have a guesthouse for visitors. In smaller villages huts are available. Plenty of space to camp in this sparsely populated country.
Other ways of getting around
Of course cycling is the best way to get around, but Lesotho is an extremely mountainous country so in the highlands you may want to consider one or more of these alternatives:
Hitch hiking
Trucks and pickups are most likely to gave you a ride. They will expect a small donation. Cars driving longer distances are few, so you may have to wait a day or so.
Public Transport
Not many minibusses (often very full) and busses do long distance trips. Most of them just go the next village; few will cross the high passes.
We took a pick-up truck taxi from Rafolatsane to the Senqu (or Orange) River, hitchhiked on the road to Thaba Tseka and to the top of the Mafikia Lisiu pass.