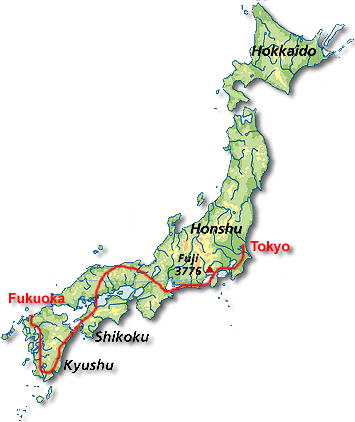 Our first trip outside Europe was way back in 1985 and brought us into a very different culture: Japan. We have always hesitated to put our information on our site as it might be outdated.
But then in 2001, we read Josie Dew's "A Ride in the Neon Sun: A Gaijin in Japan" and nothing seemed to have changed. So here it is: our travelogue about our travels under the rising sun.
A day by day impression
The route we followed; 6 weeks of cycling and a total distance of 2800 kms (1750 miles).
August 11th 1985 : Arriving in Japan
We fly from Holland to Tokyo's Narita Airport and take a domestic flight to Fukuoka. We leave the bicycles for one night at the airport.
Fukuoka to Karatsu
A cool and rainy day. Lots of traffic in and around the cities. On our first cycling-day in Japan we can't find a hotel on our own, so we ask at a travel agency. They draw a map with directions to the nearest place to stay. It is a western style hotel, but no sign in roman script. Without the map we wouldn't have recognized it as a hotel.
Karatsu to Holland Village
We are not yet used to converting the Yen to our Dutch guilder and discover too late that those nice grapes we buy for lunch cost more than US$ 10!
Holland Village to Nagasaki
Soon we cycle into the suburbs of Nagasaki. The road gets wider and wider and busier and busier. We visit the Peace Memorial Park and the Epicenter. Impressed by what we have seen we cycle on, in search of the youth hostel.
Nagasaki to Misumi
A hot and sunny day. Steep climb out of Nagasaki. Ferry from Shimabara to Misumi. Nice to be at sea and away from the traffic jams for an hour or so.
Misumi to Minamata
A cloudy day. Nice cycling on rolling hills in the morning. We follow secondary roads so traffic is not that dense. After lunch we cycle into an unexpected tunnel of 2 kilometer length.
In Minamata we discover how to find a ryokan without reading Japanese. Just look for a building with lot's of shoes at the entrance.
Minamata to Miyanojo
Away from the coast Japan is a mountainous country. With roads so steep we had to walk for a while. But what is more enjoyable than a walk through a lush bamboo forest? In Miyanojo we ask directions to two boys. They don't speak much English, but one of them has a Japanese-English dictionary in his watch (it's 1985!). When we enjoy dinner at the local ryokan the kitchen staff comes to watch the spectacular show of two gajin eating Japanese food with chopsticks!
Miyanojo to Kagoshima
The closer we get to Kagoshima the thicker becomes the layer of ashes that covers everything. Origin: the eternally smoking Sakurajima volcano. Municipal cars are constantly sweeping the streets. After dinner it seems to be even worse: our eyes hurt and everything is getting dusty.
Message in volcanic ashes: Kagoshima 18/8/85
Kagoshima to Shibushi
Under the smoking volcano we cross by ferry to the Sakurajima peninsula. The road twists around huge lava boulders. We see shelters and gullies to direct lava to less dangerous places. Today we have a strong headwind. We cycle along cardealers, tyre shops and petrol stations all day. By now we know every Japanese car brand by heart.
Shibushi to Nichinan
Although it's a cloudy day we transpire a lot as the road twists up and down all day along the beautiful Nichinan Kaigan coast.
Nichinan to Miyazaki
We have lunch under the palm trees at the semitropical island of Aoshima. In Miyazaki we visit some unimpressive temples.
Miyazaki to Nobeoka
All morning we cycle along the densely populated coast. By the time we start looking for accommodation we only see so called "love hotels" where you rent a room by the hour. Fortunately after a while we find a brand new minshuku.
Nobeoka to Tsukumi
Another cloudy day caused by a typhoon somewhere near Tokyo. Today we have some trouble with road works. As we can't read the information on the signs we decide to cycle on, ending up at the construction site of a dam. In Tsukumi the bath tub in the ryokan is again far too hot for our skin. When we leave the ryokan for an evening stroll we get a match box with the phone number of the ryokan (in Japanese) in case we get lost.
Tsukumi to Beppu
A nice and sunny day. We visit the Buddhas at Usuki. The Buddhas are carved from the rock face in a canyon. They are of great religious, cultural and historical importance. We like the atmosphere very much.
Beppu to Uwajima
In the morning we visit the famous hot springs and geysers in Beppu. Everywhere in the city steam finds its way to the surface. The ferry to Uwajima takes three hours.
Uwajima to Uchiko
In the morning we first visit a Japanese garden and Uwajima castle. It's a nice sunny day (32°C), great for cycling in this rural area.
Uchiko to Iwakuni
We have difficulties finding the ferry. We end up at the airport then at the harbor for freight ships. We discover how an illiterate person must feel! In Iwakuni we have a look at the famous Kintai bridge. This historical wooden bridge spans a wide river. No nails were used to put it together.
Iwakuni to Miyajima
It's not far to the sacred island of Miyajima, but the road is again extremely busy with too much large trucks to enjoy the ride. It is a relief to arrive at the quiet though touristy island. The famous tame deer enjoy our lunch more than we do: they try to steal all eatables out of our hands. They even eat the empty packages.
The bright orange temple built largely above the water surface and the orange tori in the water are extremely picturesque. The sunset is spectacular.
Miyajima to Takehara
Another very hot day. We have to cycle right through the big city of Hiroshima. No fun at all: a never ending row of traffic lights. On the road to Kure cycling is better again. In Takehara we had some difficulties in finding a room. Three ryokans seem to be slightly xenophobic and at the fourth the owner tells us "no bettu": no (western style) bed available. When we explain we can sleep perfectly well on a futon we are very welcome.
Takehara to Ibara
First part of the morning we follow the coastline through nice villages with small ports. When we rejoin highway nr. 2 and see the endless row of traffic we decide to continue our way through the mountains. The climb is steep and long, but the traffic light. We end up in Ibara. When we don't see any accommodation and ask at a petrol station, they phone a ryokan and a car is sent to pick us up.
Ibara to Takebe
Because of a typhoon elsewhere it's a cloudy and stormy day. We visit Kurashiki, a town with a historical centre. Because of roadwork we have to cope with large traffic jams. Tonight we sleep in Takebe, a hot spring resort. The hotel owner invites us for a nightly visit to a temple. The whole family visits the temple: tonight is the night to pray for protection by the deities.
Takebe to Jubara
When we leave the hotel we receive presents. Still cloudy and strong winds. Fortunately it's a tailwind today. It rains all afternoon. Again we spend the night at a hot spring resort. The registration form is in Japanese only, but the reception insists we fill it in from the first to the last question, although they don't speak English and we can't read it. It does take quite some time, but at last they are satisfied.
Jubara to Iwami
Today we follow rolling hills along the coast. It's a day of hard working. We have some difficulties finding accommodation as this is a non-tourist area, but just before nightfall we recognize a sign to a minshuku.
Iwami to Toyooka
Another day along the coast: nice views, little fishing villages and a lot of steep hills. In the afternoon we need more than an hour and a half to cash money at the bank. They send us from one branch to the other. Fortunately finding a ryokan is much easier.
Toyooka to Amanohashidate
It's a nice and warm day: 29 °C at 9.30 am. In the afternoon we cycle through a region with lots of weaving activities. Every building seems to house a weaving mill. In Amanohasihdate we visit the famous tourist attraction a sandbar stretching across a bay. When you look at it upside down it resembles a classic Japanese bridge. In our western eyes it is a typical tourist trap.
Amanohasidate to Tamba
Today we encounter one of the steepest climbs of this trip. We have to stop frequently.
Tamba to Kyoto
Kyoto is one of the cultural highlights of Japan. A town packed with temples. Arriving in Kyoto we visit the huge orange coloured Heian temple. That night we visit the theater for a special show for tourists. In one night we see all the Japanese arts: the tea ceremony, koto music, ikebana, geishas, and a puppet show.
A long day of sightseeing. Between nine and five we manage to visit nine temples and a castle and pedal 34 kilometers (don't do it this way; nowadays we would take much more time!)
Kyoto to Nara
While leaving Kyoto we visit another temple: the Fushimi Inari temple. We enjoy the endless row of tori's very much. We decide to stay at a remote youth hostel. It is located 10 kilometers off the main road and on top of a steep hill. When we finally arrive the hostel is 'ippai' (full) and we have to retreat and cycle all the way to Nara.
Nara to Nabari
Japanese are always good at organizing things. At an intersection where the traffic lights are working perfectly and it's not busy at all, we see two policemen controlling the traffic.
We visit two temples before leaving town. We cycle through a nice rural area: lots of rice fields and tea plantations and hardly any traffic. Every now and then we encounter a public bus. We can hear them from a distance as they always play loud electronical music to warn passengers along the road.
The bath tonight is piping hot: far too hot for our bodies that are not used to these practices.
Nabari to Matsuzaka
Only with the help of the staff of a petrol station we find our way out of town. We enjoy the cycling through the pretty surroundings until we lose our way after a detour. We do get to Matsuzaka, but it's certainly not the shortest route.
Matsuzaka to Irako
It's a dull road to Ise, but it's worth it. Japan's most important Shinto sanctuary of Japan is in Ise. Both temples, the inner and the outer temple, are destroyed and rebuilt every twenty years, together with all the treasures inside. This tradition dates back for more than 1500 years now. We see beautiful armouries and exquisite lacquer ware at the museum. Later we visit Mikimoto Pearl Island and learn all about cultivating pearls. In Irako it's not easy to find a bed. Accommodation number one is closed, number two is suffering from xenophobia, at number three no one is at home, number four is closed again and finally, at number five we are welcome. The lady that owns the accommodation never stops talking to us, although we don't understand a word.
Irako to Omaezaki
Although it's a cloudy day, it's nice cycling weather at about 27 °C and with a tailwind at gail force. Because of this wind we manage to cycle 138 kilometers. Because it's quite off season by now we are the only guests in the youth hostel and experience difficulties in finding a meal.
Omaezaki to Fuji
We cycle through a smelly industrial area with a lot of heavy traffic on the road. The town Fujin is at the foot of the famous mount Fuji. Unfortunately we only see the mountain on postcards: it's far too cloudy to see the real thing.
Fuji to Chigasaki
This morning we do see a glimpse of mighty Fuji-san. After climbing a ridge we enter a toll road along the coast. We pay ¥ 20 for each bicycle. Later we pass a continuous traffic jam, being faster on bicycle than in a car.
We stay at a very modern youth hostel, which means eating with fork and knife instead of chop sticks. For some of the Japanese guests it seems to be their first attempt in using these tools.
Chigasaki to Kanaya
It's a very cold day. Inside the air-conditioned shops it's warmer than outside! In Kamakura we visit the Daibatsu, a large statue of Buddha. When we visit the Hachiman-gu temple in the afternoon there is a procession going on. It's extremely busy, and colourful as well. After another toll road we find our way to the ferry to the Boso peninsula. It's almost dark when we finally arrive in Kanaya.
Kanaya to Shirako
We cross the Boso peninsula on quiet rolling roads in rural surroundings. The rice harvest is almost finished. At lunchtime it starts to rain and it doesn't stop until we arrive in Shirako. At the minshuku we get a huge room (12,5 tatami!). The bath is as huge as a swimming pool. We enjoy the hot water after our cold ride.
Shirako to Narita
We pedal the last kilometers. In Narita, Tokyo's airport, the ryokan is used to western visitors. We enjoy the privilege to have a look at the goldplated family shrine , which is opened only seven times a year. The owner tells us that his family dates back to the ninth century.
We leave the bicycles and most of our luggage behind at the ryokan and visit the famous temples of Nikko by train. Two days later we leave Japan and fly home.