In October 1992 we travelled to the United States to do the highly recommended 'Around The Grand Canyon biktetrip'. We started cycling in St. George (north of Las Vegas) and ended our 1700 km trip in Flagstaff Arizona. On these pages you'll find a report of the route we followed.
Tourreport day by day
Arrival in Las vegas
Arrived in Las Vegas after a long intercontinental flight from Holland. Left our boxed bikes at the Business Centre of Mutual of Omaha and took a taxi to one of the countless hotels of Las Vegas. The next day we shoved our still boxed bikes in a large size taxi and traveled to the Greyhound Bus Terminal to take a bus to St. George …. kilometres north of Las Vegas. This way we could avoid cycling two uninteresting days along the interstate.
St. George – Zion NP (70 km)
The first destination we planned to stop was Zion National Park. We followed a road parallel to the Interstate through small towns like Hurricane and Springdale. Good possibilities to buy food and drinks here. In Zion NP we selected a shady spot on the Watchman campground. It had been a pretty warm day with temperatures around 28 degrees Celsius and we enjoyed the night when it cooled down. The campground is located at 1200 m above sea-level. The nights at Zion where pleasantly cool at 8-9 degrees Celsius.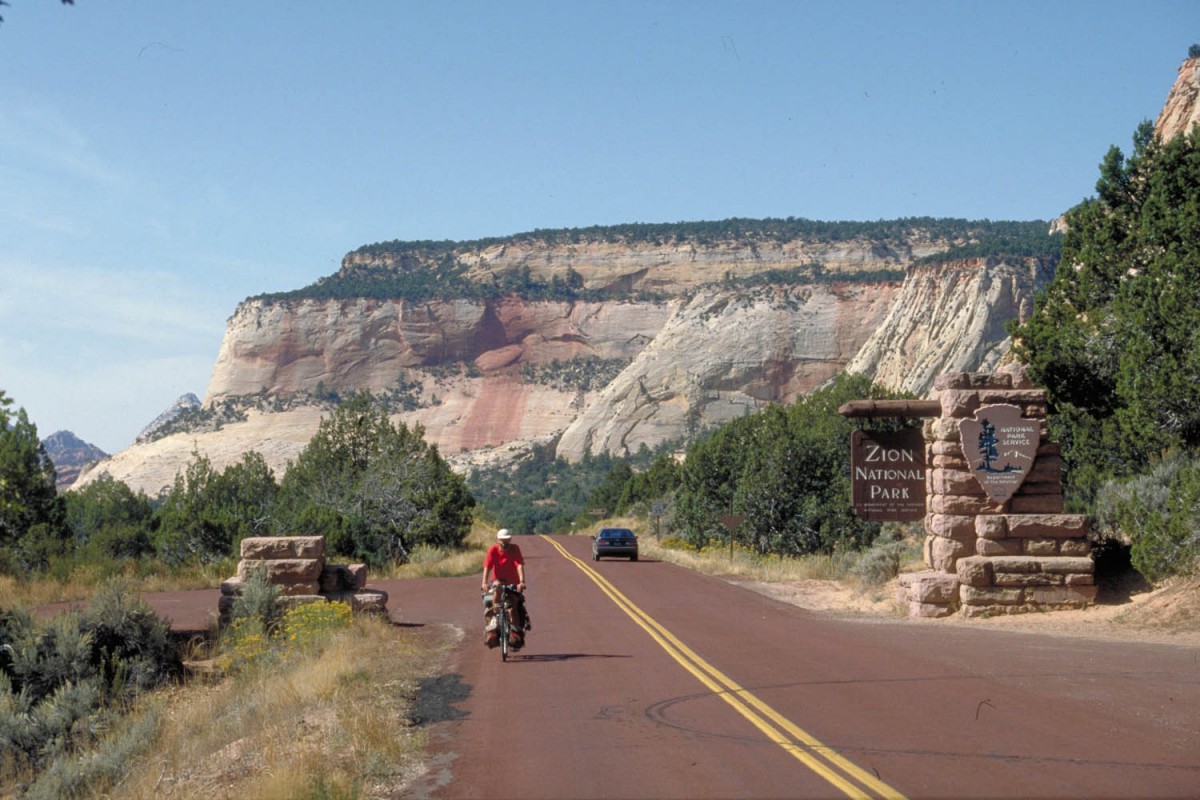 Leaving Zion National Park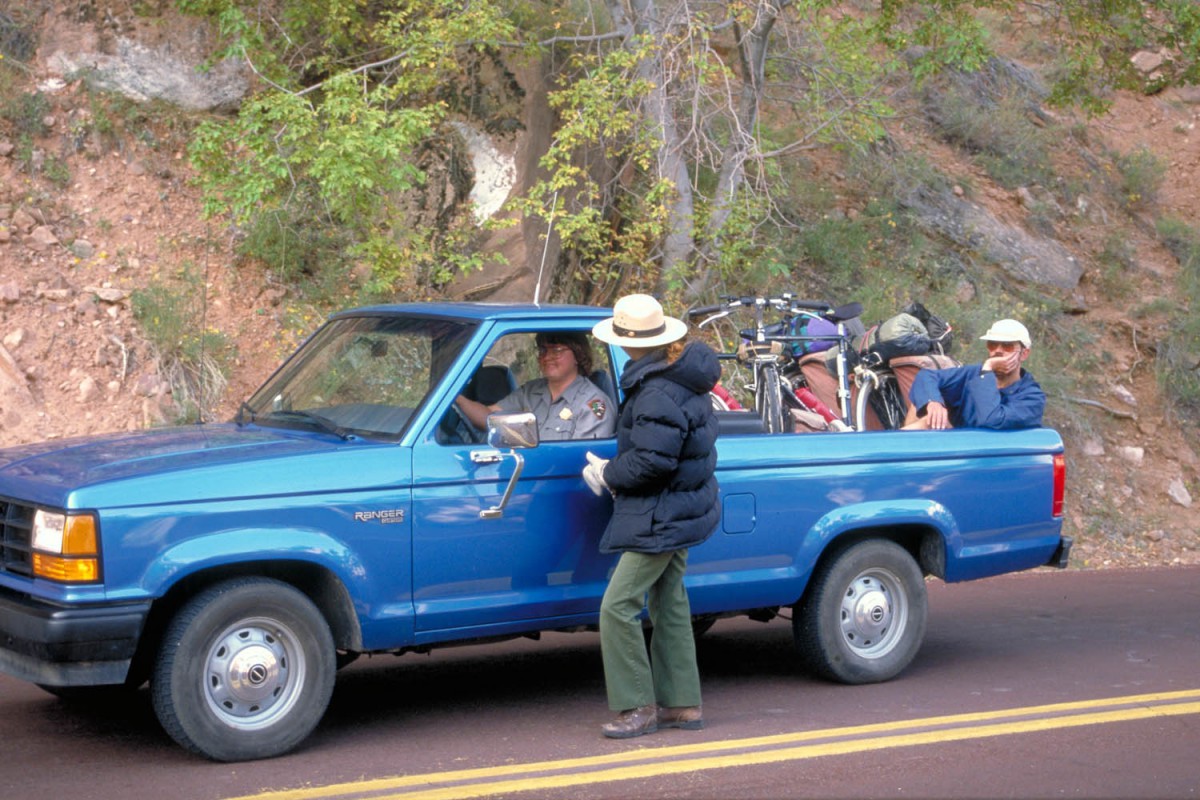 We stayed two extra days in Zion. It's an excellent place for long and short walks. The cycling in Zion is limited. One can cycle all the way to the end of the park-road (1350 m above sea level) where the Narrows Trail starts but that's just about it. Numerous trails are available for those who want to leave their bikes behind. A recommended one is the steep trail to Angels Landing at 1765 m.
Zion NP – Glendale – Bryce NP (140 km)
Travelling east along the Zion – Mt. Carmel Highway cyclists first have to negotiate the six hairpins of the climb towards the tunnel. The road is excellent, the climb easy. When we did this trip the tunnel was off-limits to cyclists. Due to the limited width of the tunnel, cars can travel only one way at a time through this tunnel. Rangers at the tunnel entrance will stop cyclists and when no private car is available phone for a national parks pickup truck to drive you to the other side.
From the tunnel exit it's mainly downhill to highway no. 89. Highway 89 follows a wide valley and only the last miles to Glendale (KOA campground with grassy sites and a shop) the road starts climbing.
After spending the night at Glendale we had to climb another 12 kilometres . From there the road slowly descends towards the junction to Bryce NP. There are plenty of shops along this road. A very well stocked shop with virtually everything for the camping cyclist is located at Ruby's Inn near the park entrance.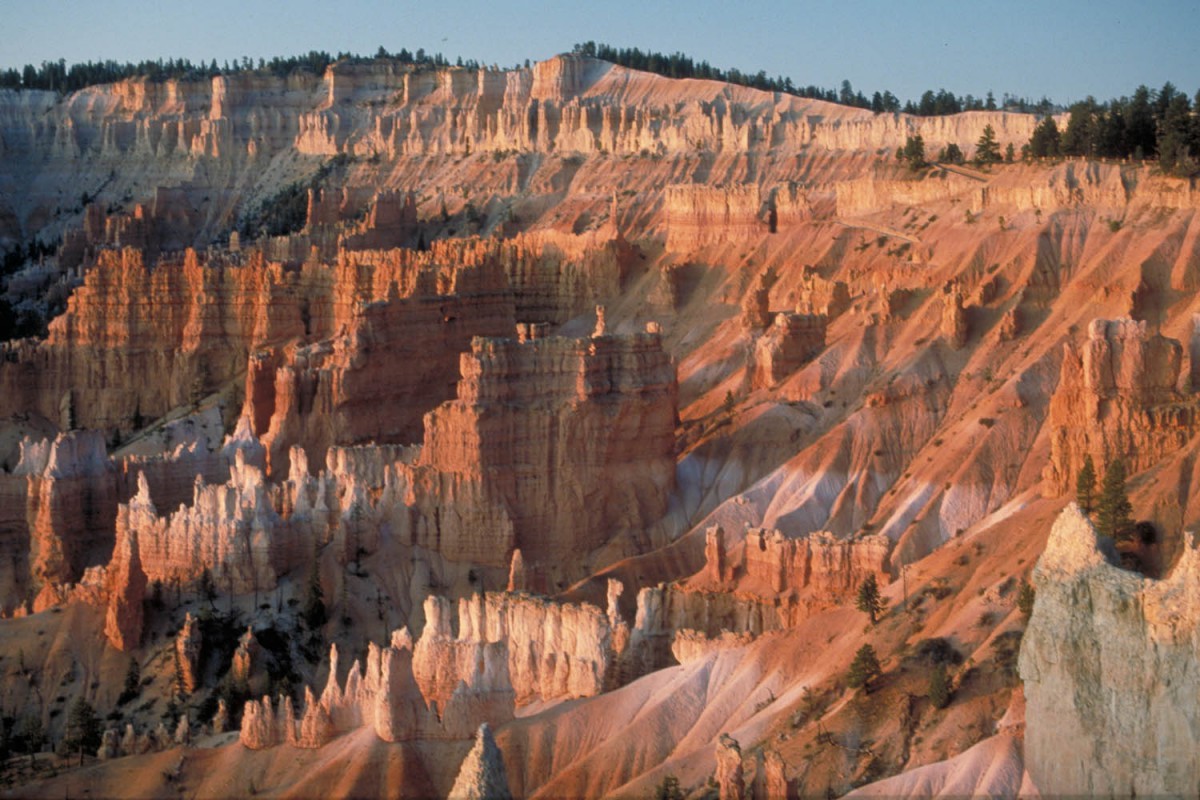 Sunset at Bryce NP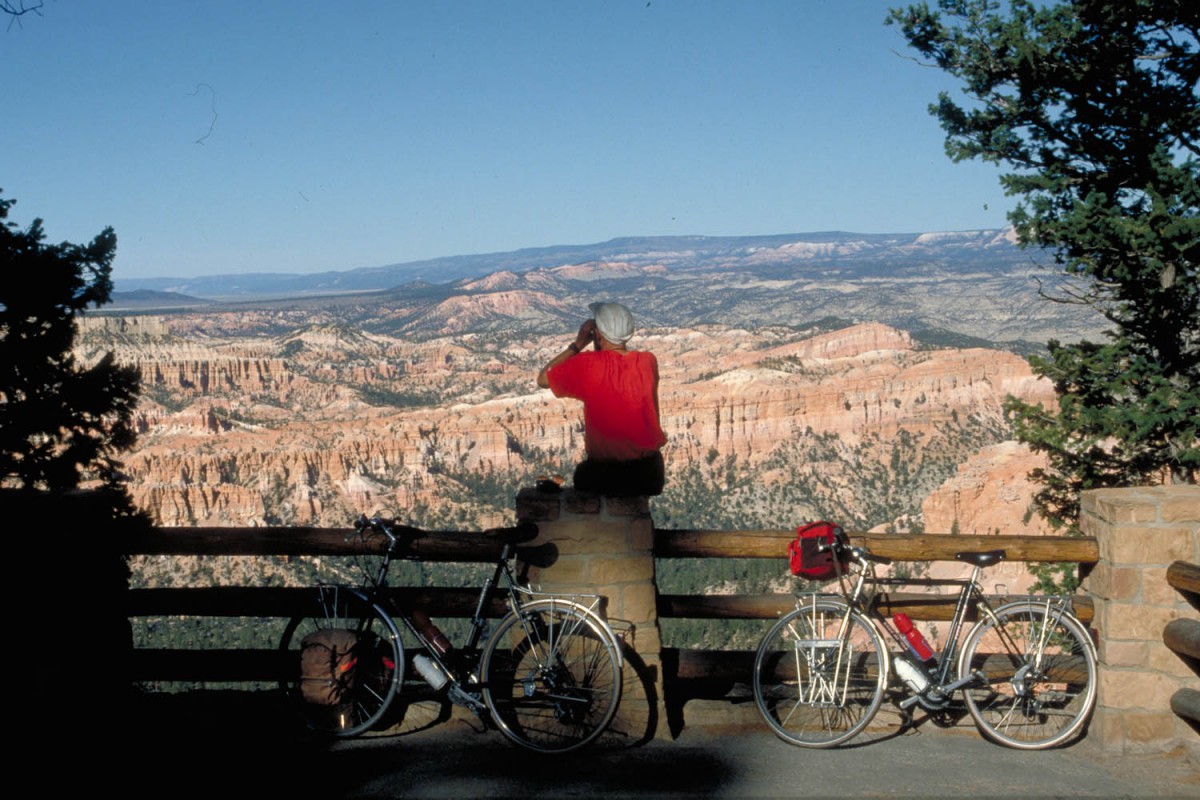 Bryce campground is located at 2400 m so nights in October can be very cool. We made the trip towards Rainbow Point (2775 m) with superb views of the surrounding country! A walk through the canyons is am absolute must.
Bryce NP – Capitol Reef NP (220 km)
The morning started with a long descent to the small town of Topic. There are shops in Topic but we saw no possibilities to resupply in Cannonville and Henrieville a bit further on that same road. After 50 kilometres we had a steep climb (12%) but as a reward the last 30 kilometres to Escalante were almost all the way slowly downhill.
The small campground at Escalante Petrified Forrest is recommended with free hot showers and grassy sited. The petrified remains of a 150 million year old rainforest are impressive and worth a visit.
A few kilometres beyond the petrified forest site is the small town of Escalante proper with shops and restaurants. The road descends steeply into the Escalante River Canyon and later climbs even steeper. You'll need low gear here… After the steep climb out of the canyon the road follows a ridge and climbs slowly towards Boulder (store). You'll keep climbing until the summit of Boulder Pass at 2865 m. Travelling off-season we found the basic campsite at Oak Creek (just beyond the summit) closed; no water, no toilets, no nothing. We still put up our tent because we didn't have any energy left to continue any further. After a spaghetti meal we quickly fell asleep.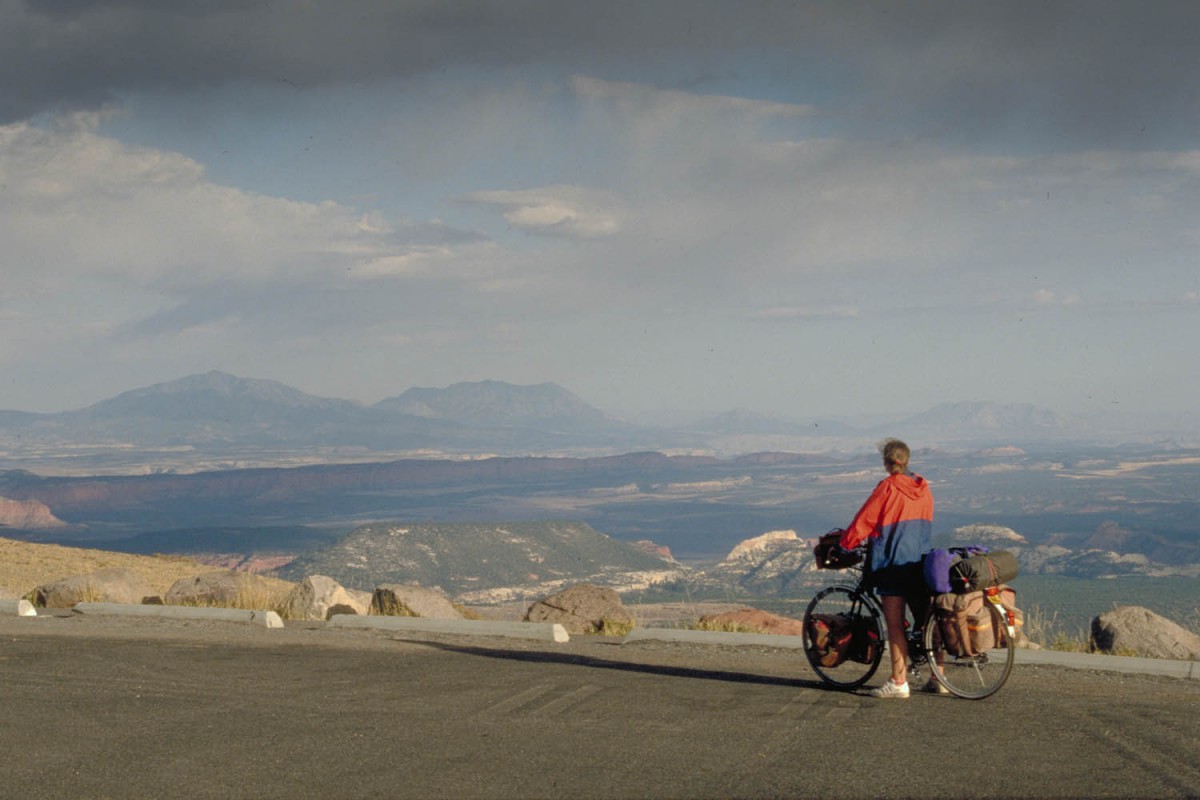 View from Boulder Mountain
The remaining 60 kilometres to Capitol Reef NP were easy (downhill). Had a short stop at Torrey (store, take-away, RV park, Laundromat).
Capitol Reef – Moab (250 km)
Just outside the NP we bought home-baked bread at the Sleepy Hollow campground. The countryside here is empty and stony. Not much trees here so finding a shady spot for lunch. Watch out for the thorny shrubs when pushing your bike off the road.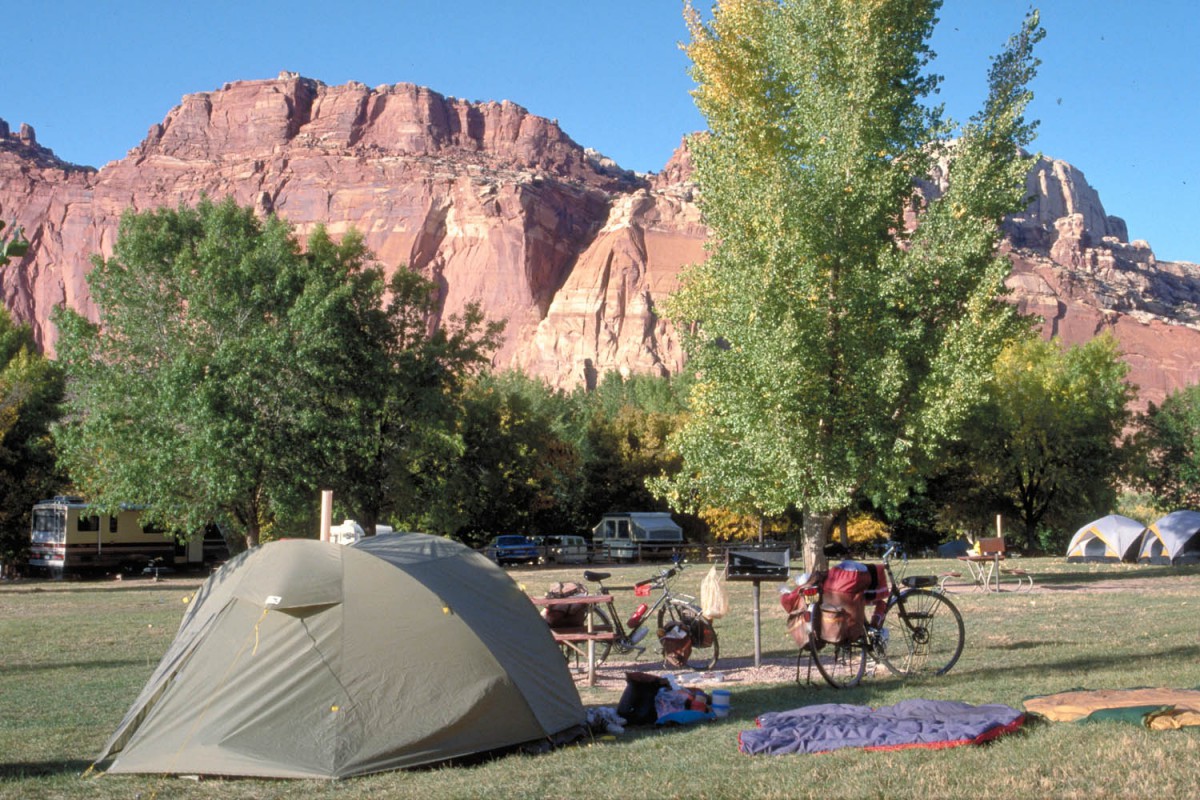 Camping at Capitol Reef NP
Hanksville is a small town with one General Store, a restaurant and the Red Rock Campground with shady grassy sites and hot showers.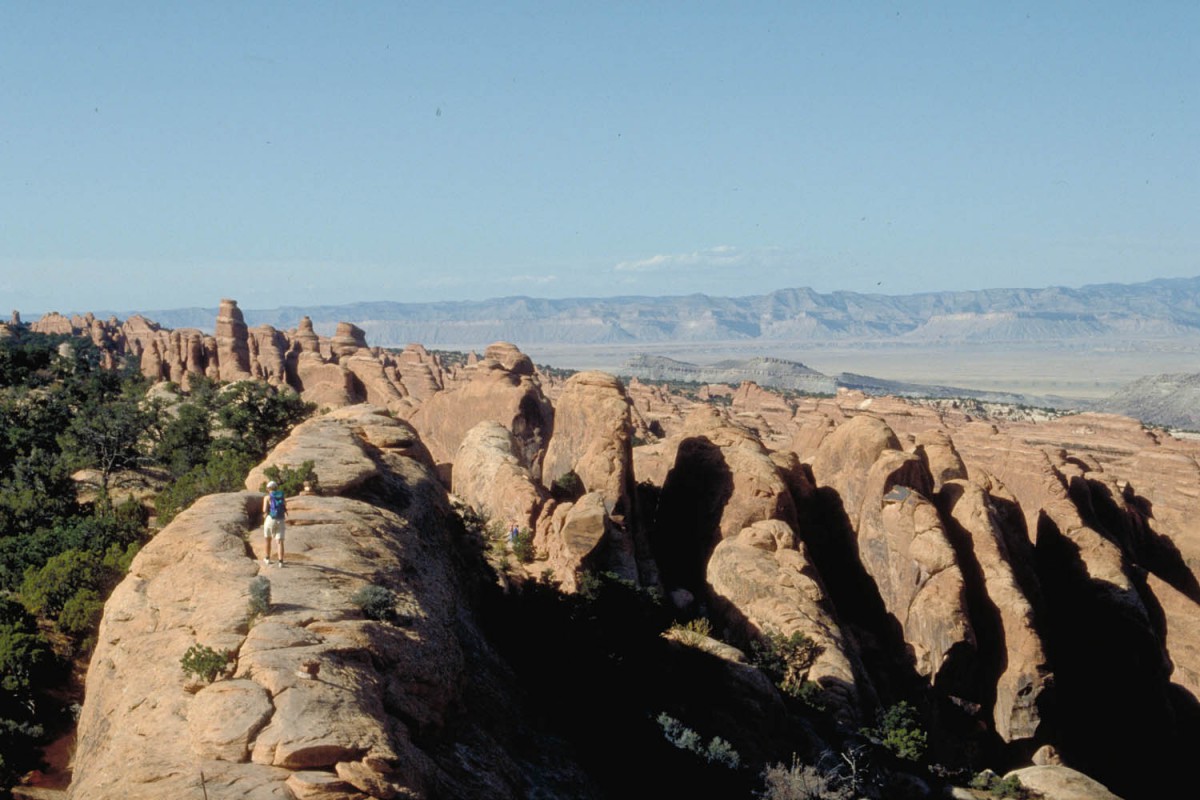 Another 100 kilometres further is the town of Green River. Green River can only be reached by cycling along the Interstate. The shoulders are wide, traffic is relatively sparse. Officially it may not be permitted to cycle on the Interstate but we also saw a sign saying "Cyclist stay on shoulder"! There is no real alternative here though. The Green River State Park Campground is a recommended place to put up your tent.
To the junction with highway 191 to Moab it's another 35 kilometres along the Interstate. Highway 191 south to touristy Moab is narrow (no shoulder) and sometimes very busy. Cycling here was less pleasant than along the Interstate.
Our initial plan was to go straight to Arches NP and camp there. The ranger at the park entrance told us the campground was full and you had to arrive before 11 am to obtain an campsite there.
Arches National Park
Therefore we camped at Moab at the Up the Creek Campground (tents only). At 9 o'clock the next morning we arrived at the park entrance again.
The campground is 30 kilometres into the park and the road starts with a 'huge mountain' as one of the park rangers said. Well, we got an excellent spot at the campsite and walked to famous Devils Garden Trail that same afternoon.
Moab – Monument Valley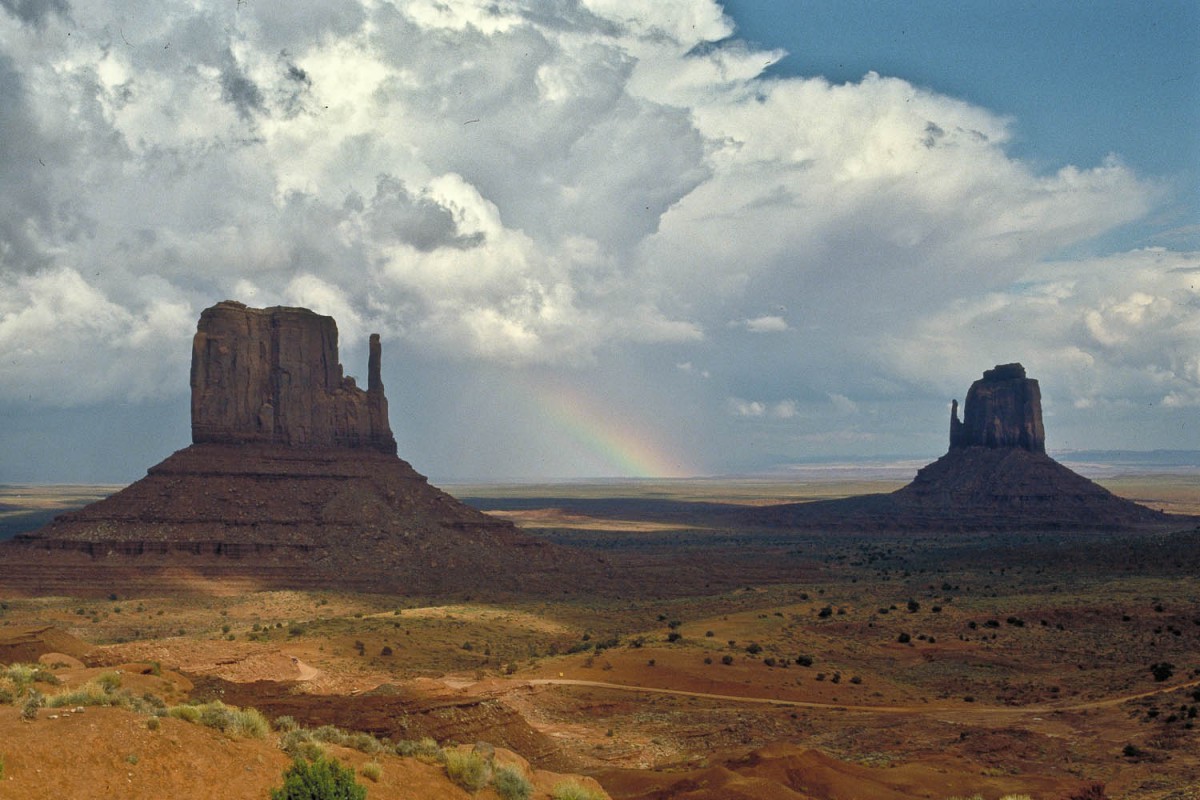 250 km The cycling through this wide and open landscape is fascinating. We were here by the end of October; tourist traffic had almost stopped and only a few local cars passed us. Mostly slow driving old pickup trucks with Navaho-Indians. Monticello itself is on a high plateau so you'll need to climb a bit before getting there. The owner of the Mountain View RV Park told us he was surprised to see cyclists in this time of the year. Had a cold night here; the temperature dropped to less than 5 degrees Celsius.
After Monticello the road narrows and the asphalt is not so smooth anymore. The best place to resupply is Blanding, a small town with plenty of shops. After 90 kilometres we planned to camp at the Sandy Island Recreation Area but it was so inhospitable we decided to stay in the Mokee Motel back in Bluff.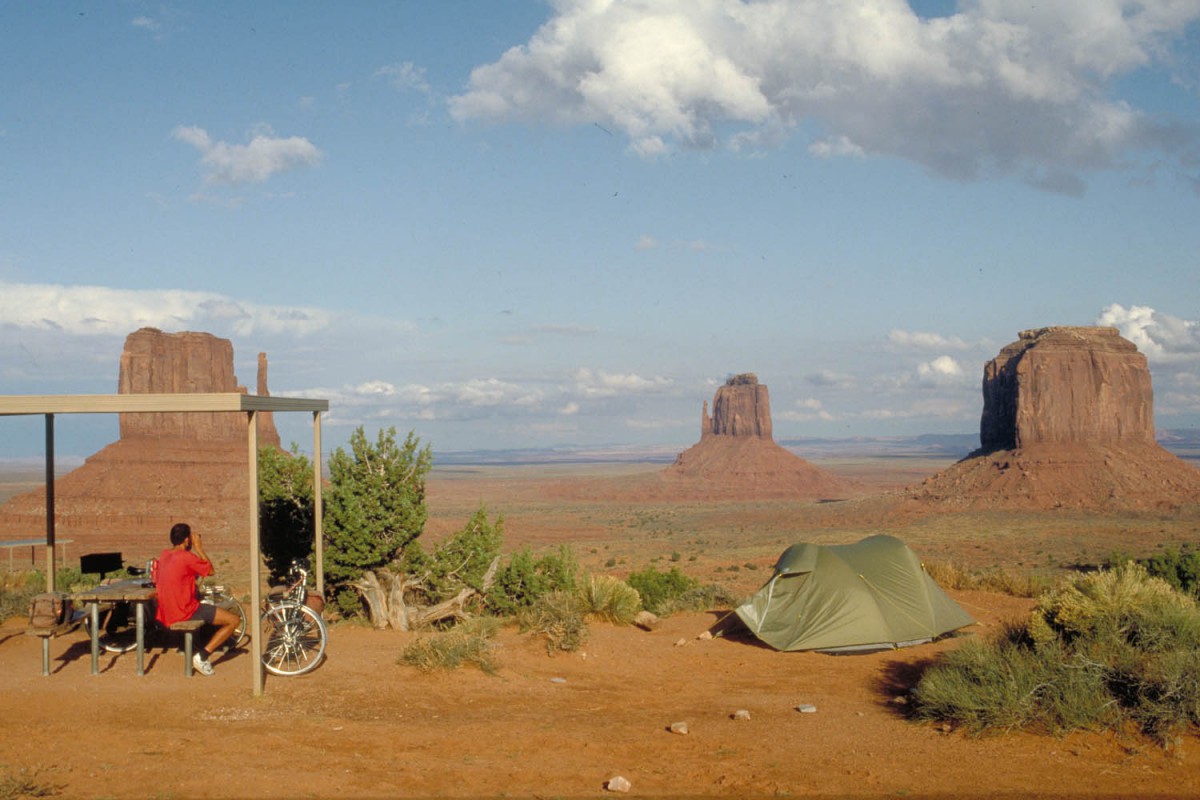 From Bluff Monument Valley is about 90 kilometres of cycling away. You'll pass through Mexican Hat (pop. 38, shop, gas station) where a small Navaho girl asked us where our pickup-truck was…! Spent our first night at Monument's at an almost deserted Gouldings Campground.
The next day we moved to the Monument Valley proper where we put up our tent at the Mitten View Campground. Superb views right from our tent of this world-famous valley.
Monument Valley- Grand Canyon NP (300 km)
Got up at 6.30 a.m. Just in time to get a glimpse of a spectacular sunrise above the Monuments. The cycling along highway 163 was easy. This is Navaho country; in the towns we passed through we often saw elder ladies in traditional dresses. After 75 kilometres is the turn-off (store) to the Navaho National Monument. The road climbs 15 kilometres to the free campground and the Visitor's Centre. Because of off-season all the trails were already closed be we were able to get a wonderful view of the Betatakin Ruins from the viewpoint.
A rather uninspiring day with broken beer bottles, dead dogs and the closed trading post at Cow Springs acting as highlights. After 105 kilometres we arrived in Tuba City. Couldn't discover a campsite or rv-park and moved to Refills Inn. This hostel is run by students as part of their training and a very nice room costs only USD 20,-. Had a wonderful dinner at a Chinese restaurant run by Navaho's! The weather forecast is talking about scattered showers, thunderstorms and low temperatures.
The day started cool and wet and would stay that way. We warmed up and dried our shoes at Cameron Trading Post after 45 kilometres . From there it was about 55 kilometres to our final destination: Desert View Campground. After 55 long wet, windy and steep kilometres we pushed our bikes onto the Desert View-viewpoint.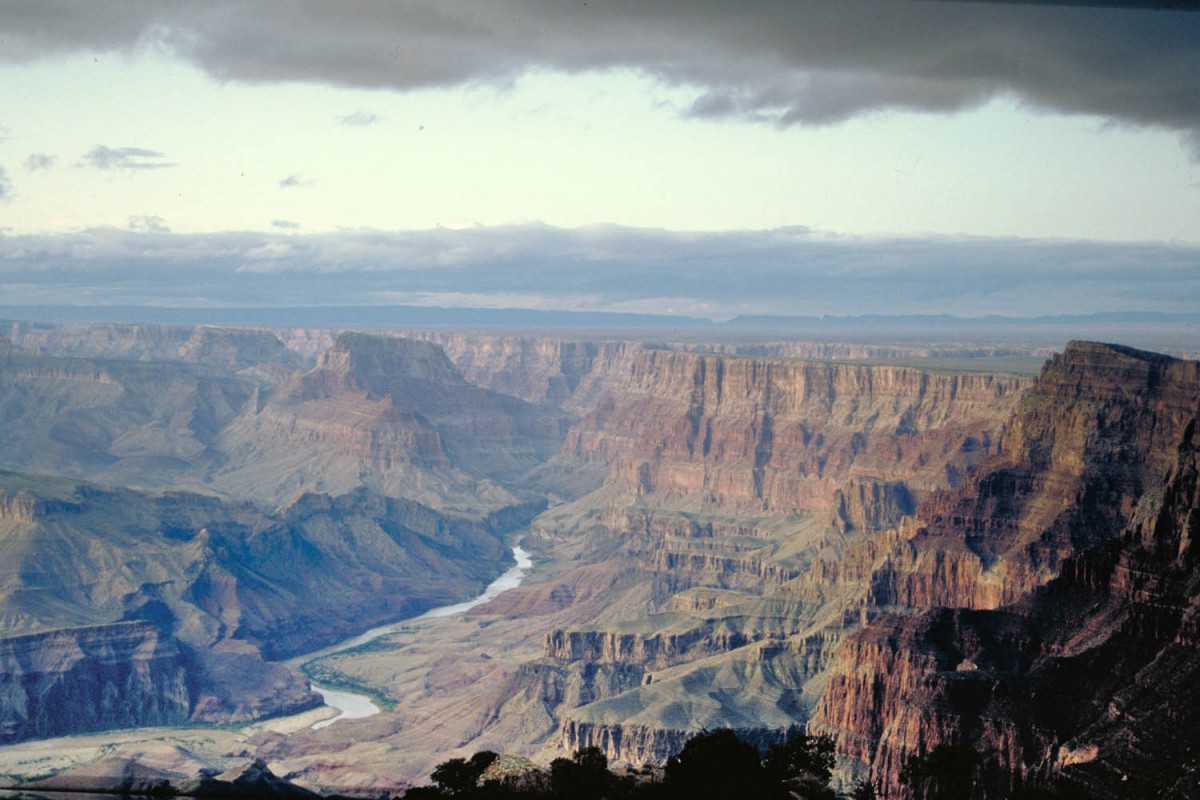 Sunset at Desert Viewpoint
Just in time to witness a really superb sunset over the Grand Canyon. Less superb was the fact that the campground had closed two weeks ago (off season). Park rangers had removed all signs pointing to the campground entrance. The water taps and all facilities were closed. The only other visitors were two bird watchers studying the hawk. They gave us water to cook and drink.
Around the Grand Canyon
It was 5 degrees Celsius when we got up the next morning. It was cloudy and windy but views along the rim were great. The enormous Mather campground near the Visitor Centre seemed almost deserted. A wheel-your-bike in hiker-biker site was available without any reservations for just USD 2,- The nearby shops had a wider variety of products than any other shop on this trip!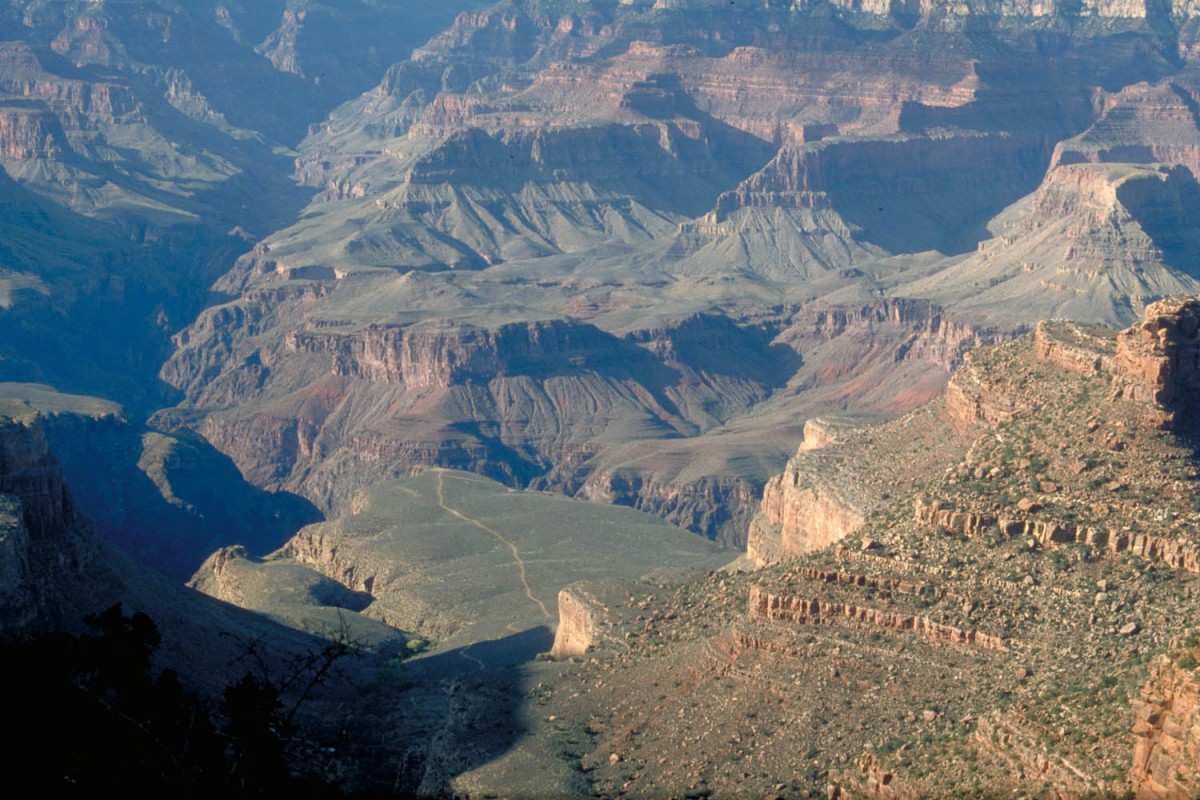 Stayed three nights on the Mather Campground. Made several walks; one down into the Canyon along the Bright Angels Trail. Enjoyed Halloween evening with endless refills of hot coffee and chocolate in one of the restaurants. Outside it was freezing.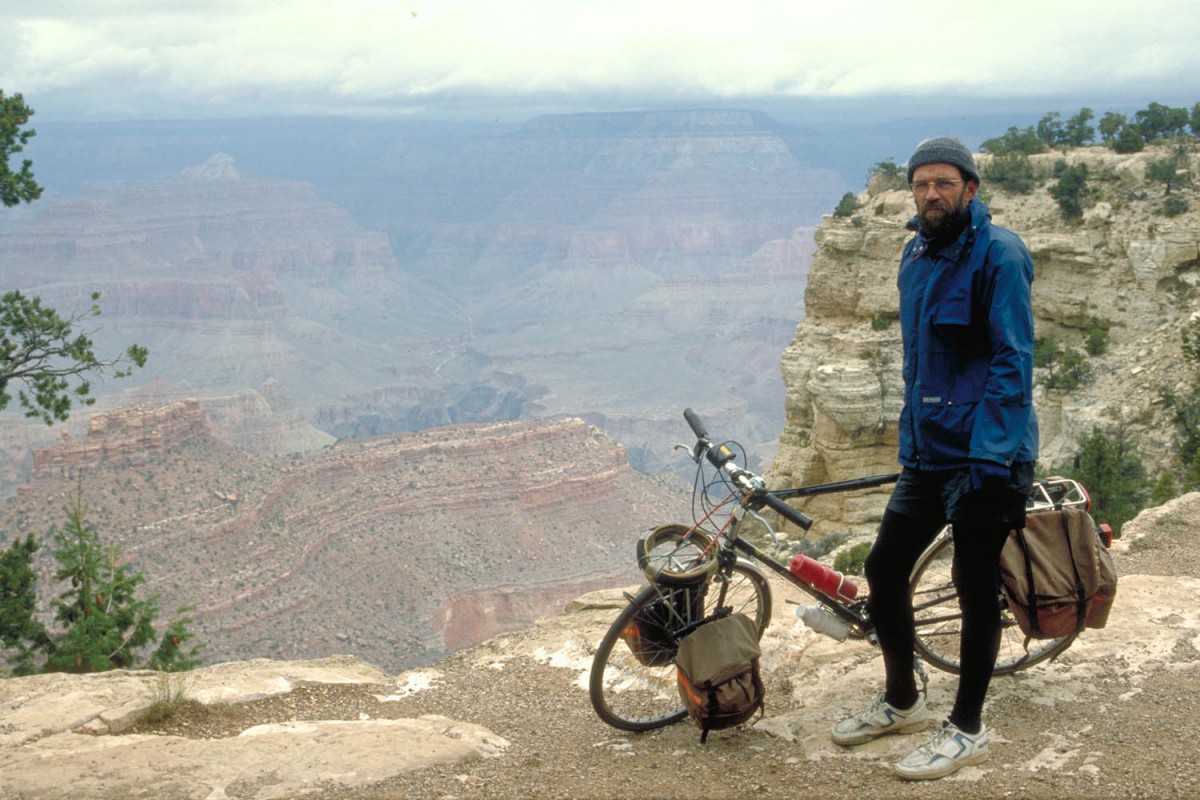 A freezing morning at the edge of the canyon
Grand Canyon – Flagstaff (140 km)
The outside water taps were frozen that morning but by the time we left it was already a very comfortable 5 degrees Celsius. It was an easy ride to Valle where the Bedrock City Campground (store) offered expensive unsheltered camping facilities. The showers provided just 5 minutes of lukewarm water for USD 1,-.
To Flagstaff it's a 90 kilometres quiet ride along US 180. We cycled through the State Forest with the snow covered San Francisco Peaks as a scenic background. The weather forecast in Flagstaff predicted storm and -10 Celsius. Time to quit camping and move to a warm motel room.
Back to Las Vegas
Out time was running out so we had two options to return to Las Vegas. One was to travel by Greyhound Bus, the second one was to rent a car. We chose the car because it gave us the possibility to visit some places in the area around Flagstaff (Meteor Crater, Walnut Canyon) at only a little extra of the costs of a bus trip.