In August and September we travelled by bicycle in Mongolia. The trip took four weeks to complete. The total distance cycled was around 900 kms.
We started and ended our trip in Ulan Bataar. We first hired a "taxi" to take us out of town. We started cycling near Amarbayasgalant then travelled west to Erdenet and Bulgan. Then south to Tsesterleg and east again to Karkorin and finally Arkayveer. There we chartered a minibus to take us back to the capital.
Starting in Ulan Batar
Busy and chaotic UB isn't the best place to start a cycling trip. When we were still in our planning stages we had decided to avoid cycling out of the city. Searching the Internet we found a tour operator who was willing to take us and our bikes out of UB for a reasonable fee. We decided to start our cycling at the Orkhon Bridge. This would give us a start on a good paved road (to get used to Mongolia) and also the possibility to include the Amarbayasgalant monastery in our trip.
An often used alternative is to take the (night)train from UB to Erdenet.
From our drop off point at the bridge (we arrived there in the early afternoon) we were able to ride at least 30 kms on good tar to the clearly signposted junction to the Amarbaysgalant Monastery. By starting at the bridge we also had a good opportunity to fill our water bags and bottles with (filtered) water from the Orkhon river.
Our route on the map
On most of our web pages we  give a more or less detailed description of the route we followed. In Mongolia this is almost impossible as there are often many tracks that go in the same direction. Please refer to the google maps track for a more detailed itinerary. Note that this track was drawn at the end of our trip, based on memory and on the accurate GPS way points of our overnight camping spots.
The Google Map below shows our cycling route. The red bed icons show overnight stops in hotels or ger camps, the small green tents are free camping spots along the route where we camped one night.
To Amarbayasgalant (67 km)
The unpaved road to A. was easy to cycle. The dirt was mostly hard packed and there are 3 minor passes to cross. The direction is obvious most of the time. Half way there is a small but clear stream to get water.
Once you have A. itself in sight you must cross two small streams ( or one stream two times?); this may require some wading through water.
There are several ger camps in this area. The minuscule village that surrounds the monastery has some small shops. Climbing up the steep stairs to the stupas behind the monastery is worth the effort. Great views!
To get back to the main road just follow the same track back.
To Bulgan (180 km)
From the Amarbayasgalant junction the main road is in excellent quality and carries few cars. After this junction you'll descend to Baruunburen (possibility to get water from the river). There are several passes to cross before you roll into Erdenet. Erdenet is Mongolias second largest town and the home of one of the largest open copper mines in the world. You'll see plenty of huge industrial mining facilities along the road. Erdenet has all the facilities you will need.

On the road to provincial capital Bulgan there is one pass (Zoon Dawa) that is longer and steeper than the others on this stretch. Bulgan is a sleepy little town with shops and some uninviting hotels.
Crossing south to Tsetserleg
Day 1 (80 km)
Our initial plan was to follow the main highway west for some time and then turn straight south to Saikhan and eventually reach Tsetserleg.  The main highway gently climbs to a pass through a narrow valley finally reaching a dawa (pass) marked with a nice stupa. Here we met  a group of organised cyclists travelling with two support vans, a guide, a tour leader, a cook with assistant and of course two drivers. The guide advised us to avoid the road south of Saikhan as it would be muddy and wet. Instead going further west and then turning south would be a better and easier option. They were also going that way.
The road first descended to the turn off to Saikhan (surprisingly signposted!) and then continues to a much lower dawa were we were told to leave the highway.
Again we were off the tarmac, easily riding along a mostly reasonable quality dirt road south.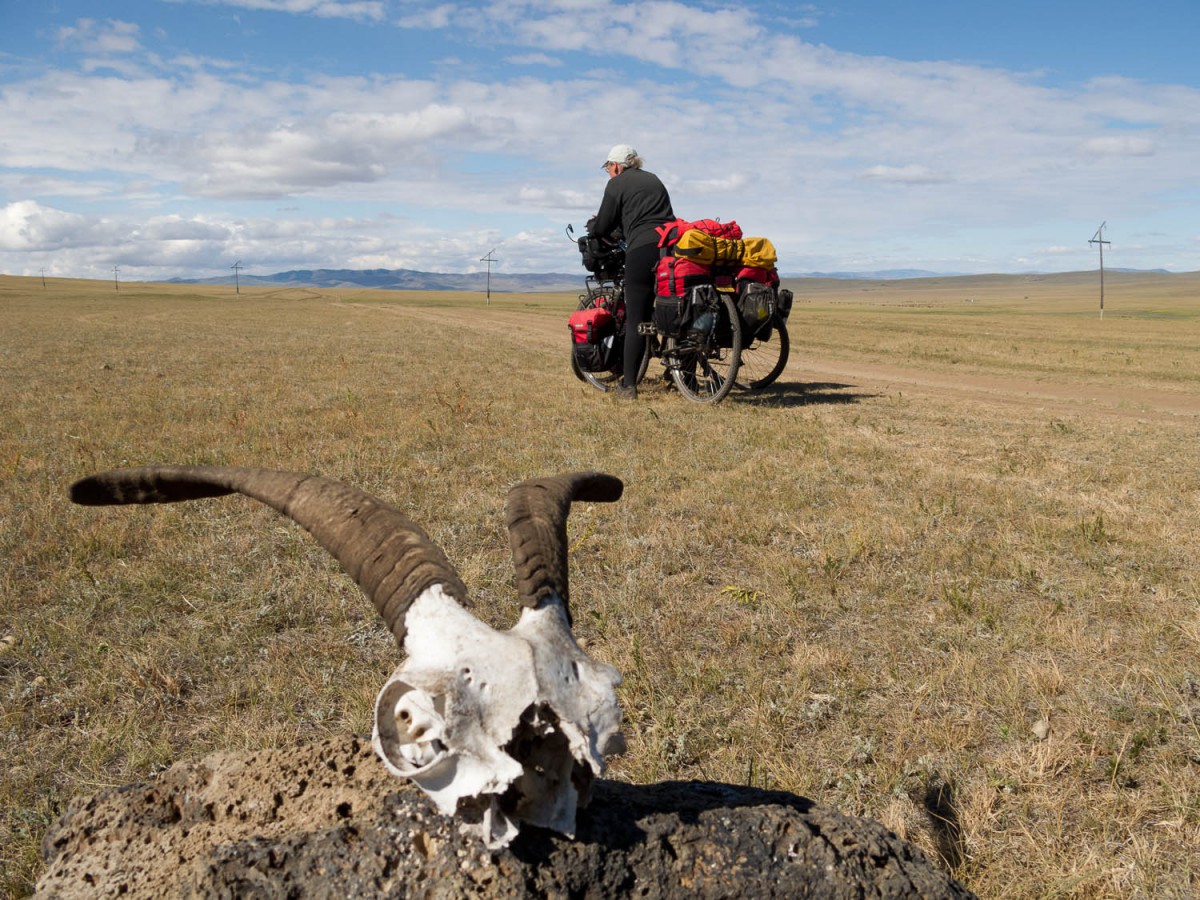 Day 2 (50 km)
Once you get off the main road navigating in Mongolia can become a real challenge. Although we carried several maps, a compass and a gps  we often had difficulties find the right direction to travel in.
We lost some time by wandering around unmarked tracks before we got "back"  onto the Saikhan – Kairkan dirt road about 25 km east of Kairkhan. K. has shops and a petrol station. A rickety bridge crosses the river, a good point to refill your water bottles.
South of K. is a string of lakes, some offer nice camping spots. Particularly along the last and largest one. There is no real main track here, we generally kept to the western side of the valley.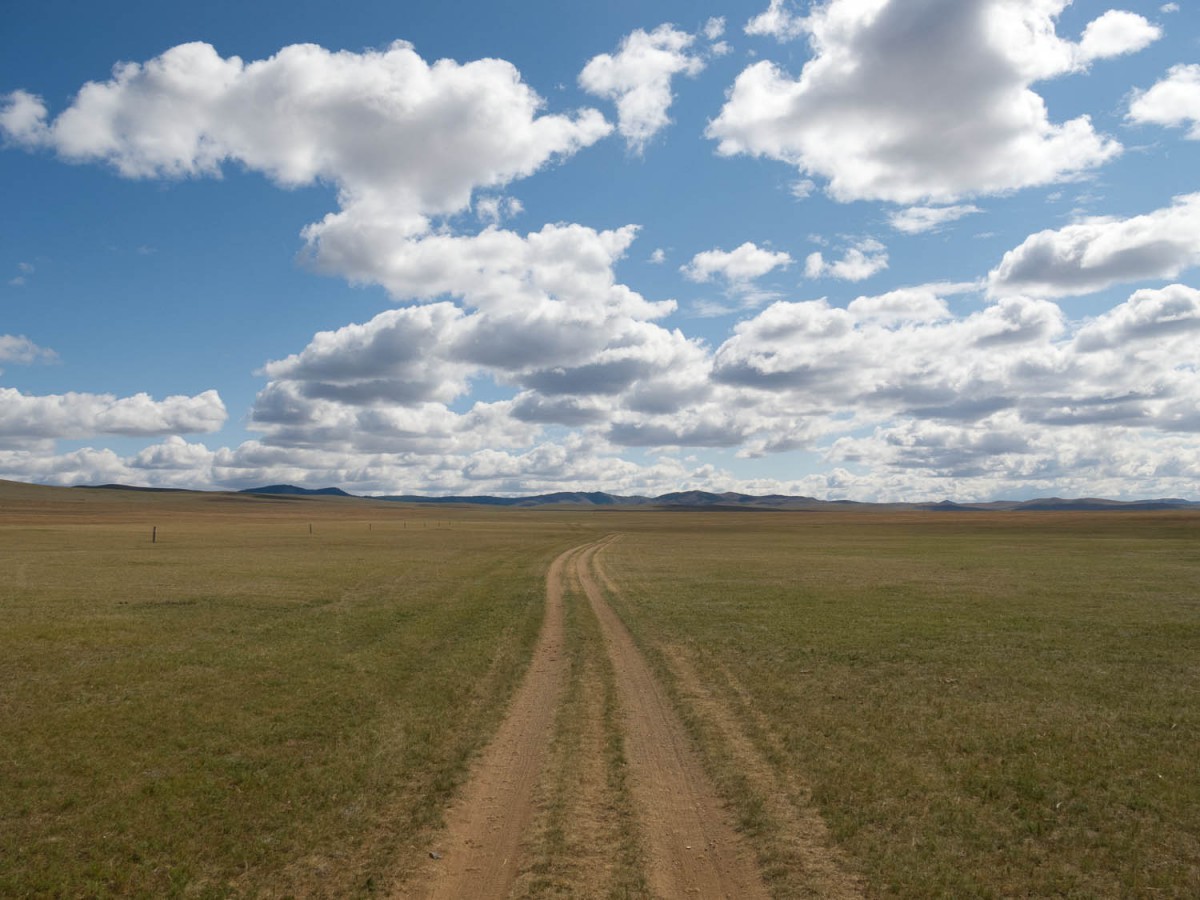 Day 3 (55 km)
At this point the river is relatively close to the road (water supply); further south we saw some hand operated water pumps to get water for the cattle. No villages here, just small groups or isolated gers. Some maps show a village named Bugat along the road. We spotted nothing that could be called a village here, only two or three buildings that that could just as well be abandoned.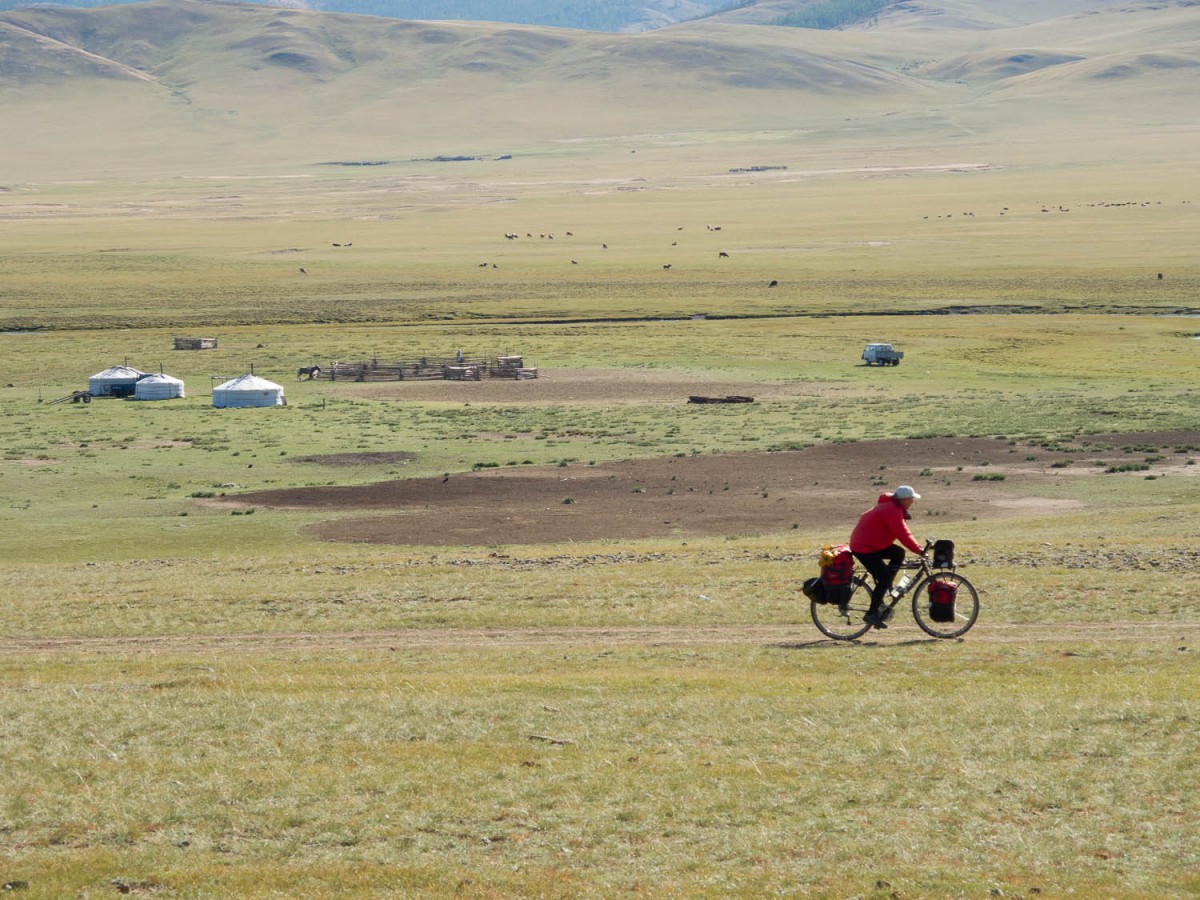 Day 4 (50 km)
Junctions are mostly not obvious in Mongolia 😉  In the morning we missed a vital turn off and were already climbing out of the valley as we spotted some traffic at the other side of the valley, kilometers away. Studying our maps and gps we discovered that a few kms ago we had missed a major junction.  Taking the right road we climbed to another pass and descended into a very wide river valley north of the village of Ikh Tamir.
Day 5 (55 km)
The miles to Ikh Tamir follow the river closely. The road is extremely bumpy and rocky. A lot of hard work awaits any cyclist here.  Ikh Tamir is a small town situated on the paved road to Tsetserleg, IT has shops (most of them seemed to be closed on the Sunday we arrived there) and a petrol station. Also a good place to get water from the nearby river. On the eastern side of the river, north of the bridge is a ger camp.
The paved road to T. is good and has few cars on it. The main challenge is the huge mountain just before T. This requires a very steep climb and an equally steep descent. The road surface is covered with very fine gravel; be careful riding down as your wheels may easily slip.
Tsetserleg has plenty of shops, hotels and other services.
In two days to Karkorin (125 km)
Major parts of the highway to Hotont are under construction. This means following bumpy and muddy detours and / or following the old road that is in a similar condition. Only the initial kms from T are already paved and follow the river. The road works started at the bridge near Tshenker and may last for a long time in the future.
Hotont has some small shops and cafes. The road continues to follow the river(s) but there are still some hills to climb. Karkorin has plenty of accommodation, mostly in ger camps.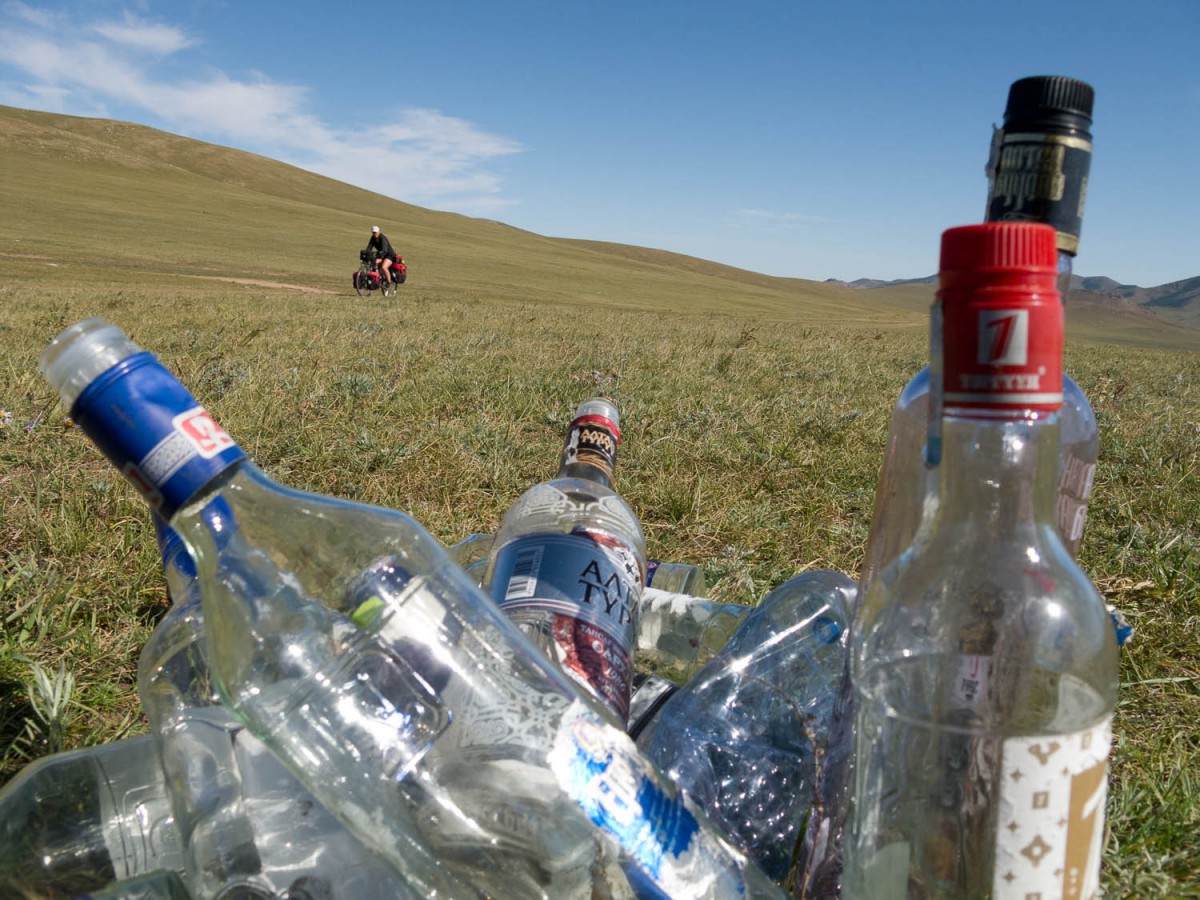 In three days to Arvaykeer (150 km)
The first stage to Hujirt is obvious. Follow the main highway in the direction to UB. Untill the point that this road veers to the north and continues to distant UB it is paved but in a bad shape.
Continue east on a much better (and newer road) to reach Hujirt. The village of Shankh has  a small monastery. Unfortunately the nice pavement ends far before Hujirt and it's rough roads and road works the rest of the route. Hujirt is a hot springs resort town and offers plenty of ger camps. Most of these are located in or near the village itself but are not at all signposted. Avoid the ger camp we stayed as the facilities were in an advance state of disrepair. (see map).
Leaving Hujirt is not a problem, just leave town in a southern direction. The tracks follow a wide valley. After aprox. 10 kms change to the western side of the valley and keep south as much as possible. There are several tracks in this wide valley and many of them will take you into the wrong direction. We had to ask for directions a few times. Climb out of the valley and keep travelling south; from here on all tracks go to Arvaykheer; therefore asking directions is mostly useless.
There are no villages between Khujirt and Arvaykheer. Water is occasionally available from small streams. The tracks are rough most of the time. As usual traffic is very low.
To reach the main UB – Arvaykheer road (paved) you must cross a mountain range.  The climb to the top is steep followed by a 6 km descent to the pavement. The highway was surprisingly quiet.
Back to UB
by car As we had only a few days left we were unable to bike back all the way  to UB. We were lucky enough to charter a mini bus to drive us back to UB with an overnight stop at the dand dunes of Mongol Els.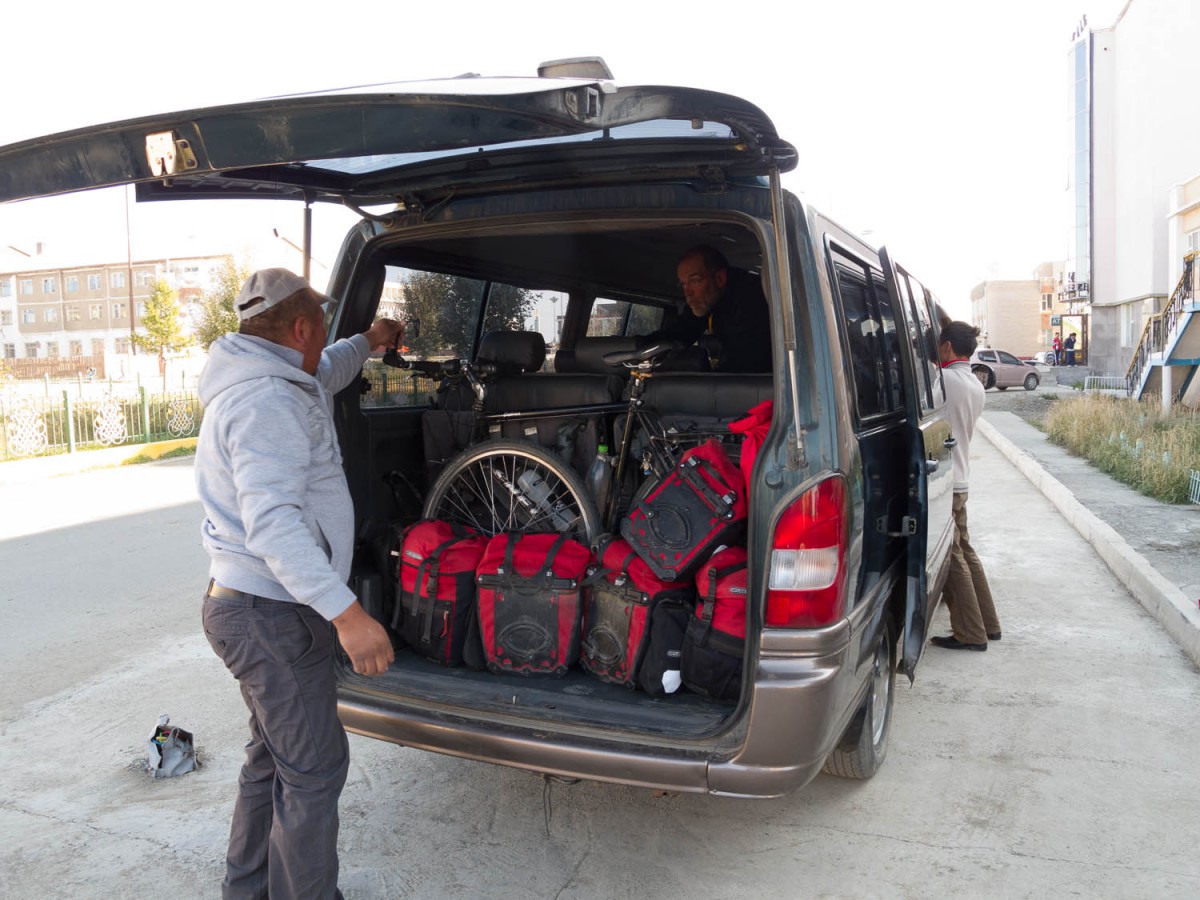 The road up to Mongol Els was rather bumpy and rough with plenty of giant pot holes. Mongol Els has several ger camps but most of these are more than 10 km off the main highway and can only be reached on sandy tracks.
Beyond Mongol Els the highway improves but also seems to carry more traffic. 30 kms before UB the road widens to a dual carriage way. The dust, noise and traffic chaos of the capital start early 😉